Coastal Michigan: A Labor Day wedding weekend in Holland and Saugatuck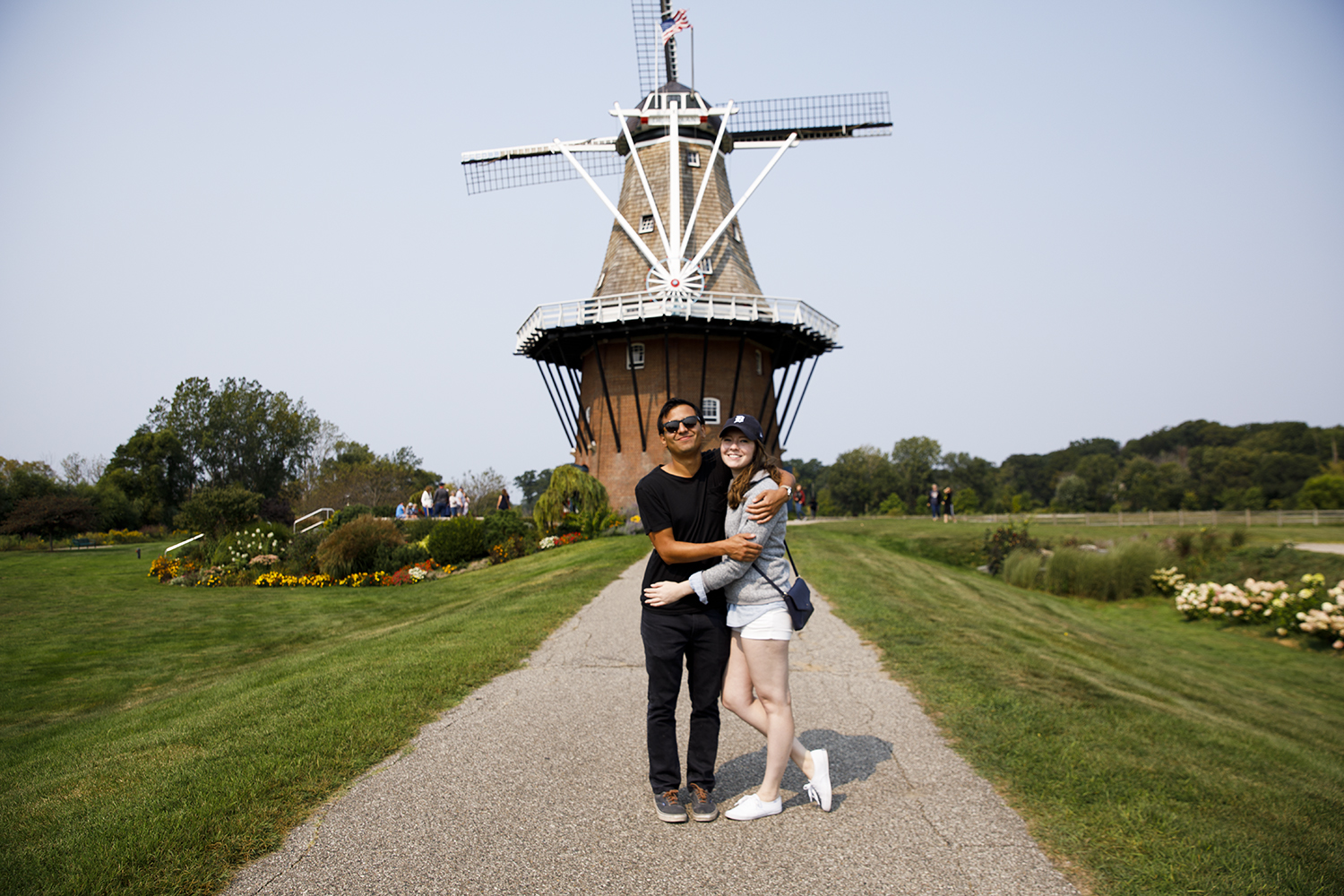 I'm totally biased, but Michigan is probably the most underrated state in the union.
I could wax poetic about the mitten state for hours on end, I truly love it that much. There are an endless number of cities available for weekend trips, whether you're looking for sporting events, casinos and urban culture (Detroit), winery tours (Traverse City), brewery tours (Grand Rapids), hiking and kayaking (Pictured Rocks), skiing (Boyne Mountain), dune buggying (Silver Lake), beach lounging (Grand Haven), Christmas celebrations (Frankenmuth), an old-fashioned resort weekend (Mackinac Island) … my list could go on, and on, and on.
I swear, the Pure Michigan campaign isn't paying me to say any of this, either.
If you hadn't heard, my college friend Caitlin got married (yay!) this past Labor Day weekend back in Michigan, where we both grew up.
Her wedding was held at the gorgeous Felt estate, located about halfway between Holland and Saugatuck, and since it was scheduled during Labor Day weekend, Mando and I ended up turning the entire affair into a mini-vacation of sorts by exploring as much of both towns as we could after celebrating Caitlin and Sean's nuptials.
First, the wedding. It was beautiful. We got to Holland early Saturday morning for the wedding rehearsal and then the mimosa-laden rehearsal brunch, held alongside the docks at Boatwerks.
Mando and I did a bit more last-minute wedding prep and shopping over in Grand Rapids before wandering through the stores in downtown Holland and getting a late lunch at Crane's in the City. We checked into our Airbnb and took a nap (we had to wake up at 3:30 a.m. CDT to make it to the 10 a.m. EDT rehearsal on time!) and then met up with the rest of the wedding party at New Holland Brewing for a late dinner and beer flights before we moved over to the bar at CityFlatsHotel (where the bride and groom were staying) for drinks.
We woke up the morning of the wedding and dutifully waited in line at Windmill for breakfast before grabbing coffee at Lemonjello's. Then, it was wedding time!
Caitlin and Sean's wedding was seriously beautiful. We all got ready inside the historic Felt Estate mansion, dipping out from beneath the hands of the stylists every so often to wander throughout the home, exploring the vintage ballroom, libraries and endless bedrooms.
The ceremony was held in a literal fountain to the side of the estate, and cocktail hour was hosted on the front porch of the mansion before we all celebrated with dinner and dancing under string lights to the tune of a live band.
The maid of honor gave a hilarious speech that had me crying from laughter, and all the guests were sent home with Girl Scout cookies, since Caitlin works in marketing for the Girl Scouts of Western Ohio.
It was an absolutely beautiful celebration, and I couldn't be happier for Caitlin and Sean.
After the wedding, Mando and I rushed to see as much of Holland and Saugatuck as we could.
We started by grabbing coffee and bagels at the 205 Coffee Bar before driving to Windmill Island Gardens.
Holland has a huge Dutch heritage, and it's evident in every part of the city, from the bakeries to the tulips. So, naturally, the city takes pride in a park built around DeZwaan, a 250-year-old authentic functioning Dutch windmill that was brought to Holland from the Netherlands in the 1960's.
We toured the windmill itself, tip-toeing up five flights of narrow stairs and surveying the town from the balcony at the top. It was incredibly fascinating to learn how a windmill works, but I think I was more enamored with the structure's history. The windmill is the only authentic, working Dutch windmill in the country, and has quite a storied past. It was heavily damaged during World War II, and our tour guide was quick to point out the bullet holes that can still be found throughout the windmill. During the war, two men actually hid from Nazi soldiers inside DeZwaan, crediting the windmill with saving their lives.
After we poked around the rest of the park, peeping a Dutch organ and playing with lawn toys, we sped down the road to the Mount Pisgah Dune Boardwalk, where we climbed about 18 flights of stairs to take in the breathtaking views of Lake Macatawa, Lake Michigan, Big Red the lighthouse and the surrounding marinas.
Then, we dipped down to Saugatuck, a sleepy village of less than 1,000 set along a pristine beach and filled with quaint shops. We stuffed our faces with shrimp and grits, biscuits and slaw at The Southerner before braving the misty rain, strolling through downtown with Uncommon Coffee Roasters honey lavender lattes in hand. We popped in and out of shops, dutifully resisted the urge of the Mackinac Island fudge at Kilwin's, walked along the docks by Kalamazoo Lake and then hopped back into the car to make our way back to Chicago.
I could seriously go on about how much I love and miss my home state, but — considering I've got two more Michigan trips planned for this fall — I'll save my diatribes for another day.
My entire Labor Day weekend trip was absolutely wonderful — and congrats again to Sean and Caitlin!