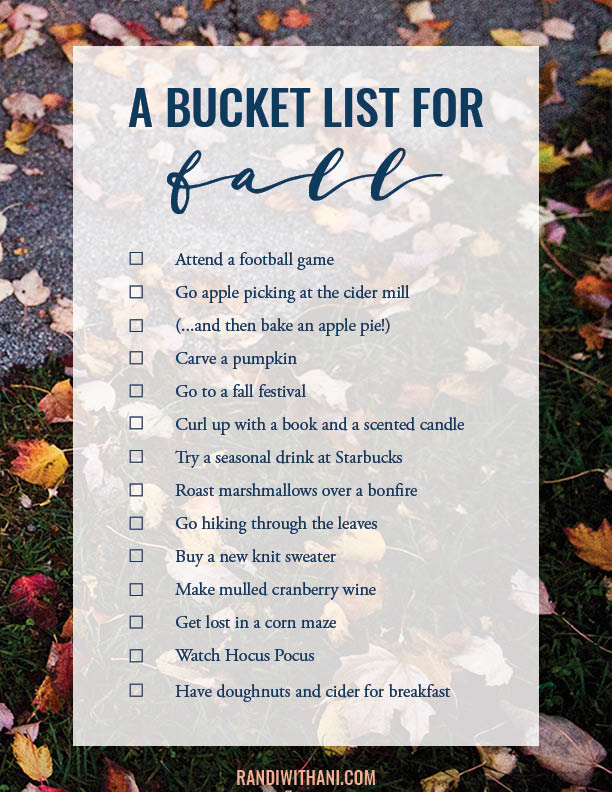 I've been in a complete fall mode since Labor Day thanks to the early chilly temperatures (which have sadly already skyrocketed back up to the 80-plus degrees), but the first *official* day of Autumn is this week, so I've started seriously thinking about how I'm going to make the most of this season this year. I always grew up looking forward to everything that fall would bring: leaf piles and Halloween candy as a kid, and then tailgates and spiked cider in college.
This part of the calendar always feels like a fresh start. I think that's something that's been ingrained in my mind after years and years of a "back-to-school" mentality, but F. Scott Fitzerald was right when he said "life starts all over again when it gets crisp in the fall."
And, that fall crispness offers a host of opportunities.
Spending a chilly Thursday morning wrapped up on my couch in a cozy cardigan, reading a good novel with a cup of hot coffee in hand and a spiced candle burning nearby.
Bundling up for the annual homecoming football game in a collegiate sweater that's just a smidge too big, downing Captain and ciders while crunching through leaves on the way to the tailgate lot.
Throwing on a Barbour and a sturdy pair of boots before heading to the cider mill, tromping through the wet grass and shaking apples loose from branches before resting on hay bales, slurping down apple wine and devouring maple-glazed doughnuts.
There's just so much to love about this season. I didn't get to fully celebrate last year as much as I wanted to due to a myriad of reasons — like, yunno, the Cubs making it to and winning the World Series and putting a halt on any and all social plans my coworkers and I had for a month straight — so I'm approaching this fall with a bit more of a renewed appreciation. I've already decorated adorned my front door with an autumnal wreath and filled my home with spicy, woody candles.
Fall is truly an amazing time.
I already have some serious plans for some of these bucket list items! I'm going to my hometown this Thursday for its annual fall festival, and my high school friends and I usually end the weekend with drinks around the fire pit.
In a few more weeks, I'll be back to my alma mater for its homecoming game (Fire Up Chips!), and of course, a trip to Mount Pleasant isn't complete without a stop by Uncle John's for apple picking and wine tasting on the way out of town.
And, to be honest? That book-and-fall-scented-candle thing basically sums up most of my work week evenings.
So, that's what's on tap for the coming two months! What about you? What fall activities do you have planned? Leave them in the comments so I can celebrate with you from here!