Fall wardrobe staples and a wish list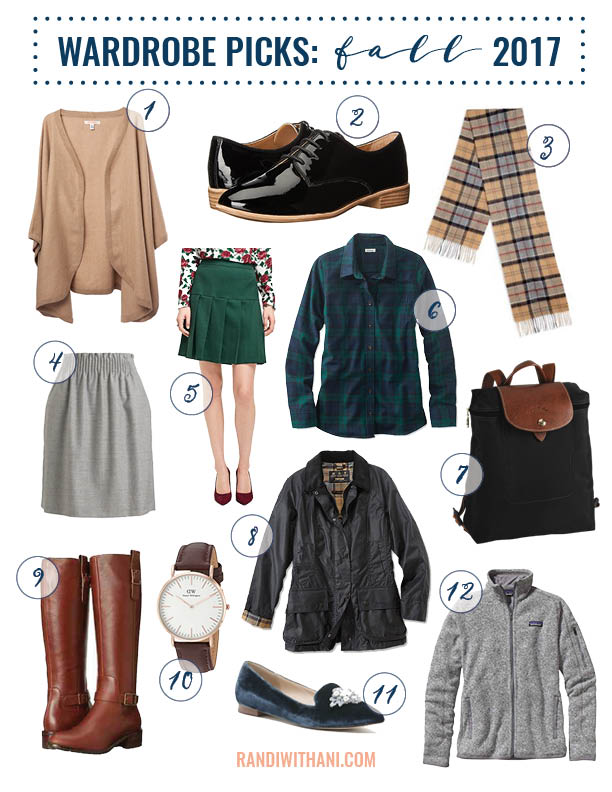 We were teased with some serious fall-like weather over the past few weeks, which is a huge bummer because temperatures will be creeping up to 90 this week, and I really just want to break out my fall wardrobe!
I guess I can settle for happy hour iced cocktails and afternoon oysters while I wait, but still, I'm ready to trade those oysters for apple pie!
You know what else I'm ready to trade? Sundresses for sweaters.
I put serious effort into cultivating my wardrobe last fall, and I'm really glad that I did. I'm planning on putting every single purchase from last fall back into my rotation again this season. And — like true staples — so many of them are still available to purchase this year, and will wear well into the coming decade, even.
So, let's look forward to fall fashion!
(Heads up: affiliate links.)
one ∙ two ∙ three ∙ four ∙ five ∙ six ∙ seven ∙ eight ∙ nine ∙ ten ∙ eleven ∙ twelve
Tops:
So, so many re-wears in my existing closet: Cozy flannels, my aubergine gingham button-up, cashmere knits and fisherman sweaters and my well-loved Patagonia pull-overs (one, two, three).
I also recently added a classic blue Ralph Lauren oxford shirt to the collection, which will be great for layering.
There are a few more pieces I'd love to pick up this year, like this beautiful cape, which would be perfect for traveling! I'm also always on the lookout for cozy sweaters and cardigans.
Bottoms:
I'm really lucky that I work in a casual office (no joke, our employee handbook lists our attire as "casual appropriate" so almost anything goes!) I'll be re-wearing my dark skinny jeans, skinny dress pants and wool skirts on repeat this season.
Just a few wish list items here: Some plaid pants would be fun, I've been dying for a pair of jewel-toned corduroy pants, and I always love to add new skirts (one, two, three) to my collection.
Shoes:
I'll be going on year four of my favorite riding boots this year, and I'm not planning on parting with them anytime soon! I'll also be re-wearing my old leather flats, Bean boots and cordovan loafers.
Maybe I'm unknowingly sick of cognac shoes, though, because I've been doing some major shoe shopping lately. I picked up this pair of glittery black loafers and this pair of shiny black oxfords to wear this fall, and I still have several more pairs of shoes I'd love to buy this year.
I'm obsessed with these velvet loafers and these adorable flats… and if I can get either pair on discount, I'll probably have a really hard time saying no!
Jackets:
If not shoes, outerwear might have the lowest turnover rate in my closet. I'll be wearing several pieces I already own this year, including my beloved Barbour, Burberry, Patagonia Nano Puff, wool blazer and excursion vests.
I upgraded my Barbour with a new snap-on hood a few weeks ago, and other than that, the only addition I'd like to make to this portion of my closet is a new field jacket. Olive is my favorite fall color, and something a little more lightweight than my Barbour would be really awesome.
Accessories:
I'm honestly not much of an accessory person. I wear the same necklace (a gold locket from my mom), earrings (pearl studs from my mom) and watch (a Daniel Wellington from Mando) about 90 percent of the time.
But, scarves! It might not be cool enough until well into November, but I love the idea of this scarf that matches the lining of my Barbour… how perfect is that?
I also wouldn't mind two new bags: A small leather crossbody for nights out downtown, and a lightweight nylon backpack for weekend day trips.
Shop this post:
What are you looking forward to wearing the most this fall? Let me know in the comments!
This post contains affiliate links. For more information, please read my disclosure policy.