I tried personalized shampoo and conditioner: My Function of Beauty review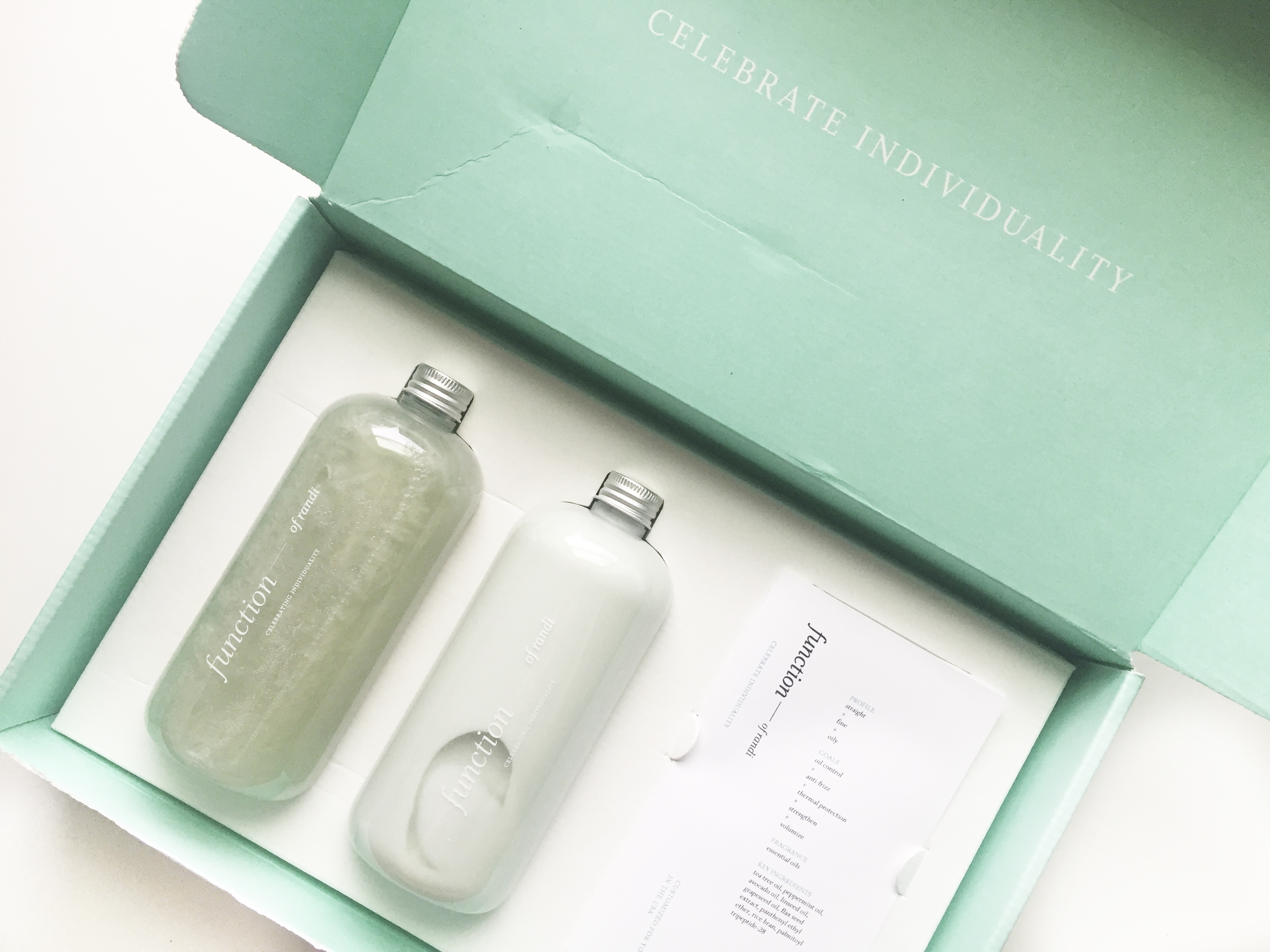 So, last month, I did something I swore I would never do.
I bought a product from a Facebook ad.
In my defense, it was really hard not to! I'd been seeing ads for Function of Beauty forever, and had been on the fence for about three months before a friend excitedly Facebook messaged me to let me know that she had just bought a customized shampoo and conditioner set.
I immediately knew what she was talking about (thanks, Facebook ads!) and pestered the living hell out of her until she received her set and could give me an honest review.
Her review was glowing, so I took the plunge and ordered a Function of Beauty set for my own.
After about a month of use, I'm going to agree with my friend. This stuff is amazing.
If you're not familiar with Function of Beauty, here's a primer.
You get to fill out a hair quiz online, where you select your hair type, hair texture and scalp moisture level. Then, you get to select up to five "hair goals," like deep conditioning, lengthening, straightening, etc. I picked strengthen, volumize, thermal protection, anti-frizz and oil control.
You get to pick your color (I went with the pretty teal), scent and its strength (I chose medium essential oils), sizes (you can actually order different sizes for your shampoo and conditioner, if you're like me and use wayyy more shampoo than conditioner) and that's it! You just wait about two weeks and your custom kit is at your door. The set comes with personalized bottles (too cute, right?) and a little instruction manual reminding you which goals you picked, and detailing how often you should be washing your hair. (For me, it's every day.)
I've been using my bottles for about a month now, and I'm pretty impressed. The essential oils smell like a spa experience, and my hair has been reacting really well to the set. The shampoo doesn't foam up as much as other shampoos I've used before, so I have to rub it between my hands before I lather it into my hair. Otherwise, I end up using way more than I need.
My hair is naturally really fine, straight and silky, so it's hard to say whether this shampoo made my hair any softer than it was beforehand. However, I can definitely say this shampoo has improved my hair's volume. My hair used to end up pretty flat and lifeless before noon at work, but I've definitely noticed that my hair seems bouncier throughout the day, even when I get home from work.
I was a little bummed because my hair is still incredibly greasy by day three, but I just naturally have an incredibly oily scalp… so I've come to accept there's no miracle shampoo that will eliminate my need for daily washing.
Also, I've recently switched from showering in the morning before work to showering before bed, so I've been going to sleep with wet hair. It totally negates the need for the thermal protection goal I picked, but my hair looks really good when I wake up. No kinks, no cowlicks, no frayed and ratty ends. All I do is brush it really quickly and head out the door.
Here's the shameless work desk selfie I took the first day after trying this shampoo. I sent it to alllll my lady friends with a ton of exclamation points because I was that excited.
Anyway, I definitely recommend this shampoo. It's a little pricey, but I will gladly spend those extra few dollars if it means I can get 20 extra minutes of sleep in the morning and wake up with practically flawless hair.
And, if you want to give it a try, here's a link for $5 off your first order!
(For the sake of transparency, your purchase will also give me a $5 credit toward my next order. Also, this post isn't sponsored or anything. I just really wanted to try this haircare set.)
Have you tried Function of Beauty? What did you think? Let me know in the comment section!