Daily city dwelling essentials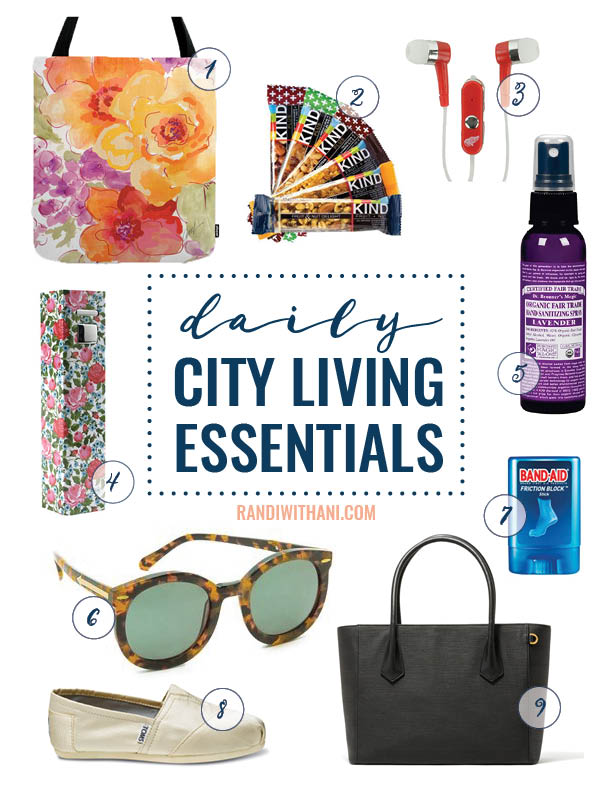 Moving to a big city is a big change.
I can honestly hear you thinking "Duh Randi" right now.
I knew moving from my town of 20,000 to a city of 2.7-some million would be a big change, but I think that almost every small-town native can confirm that — no matter how much you research or how much you think you're ready — nothing will ever truly prepare you for actually moving to the city.
Regardless, I am absolutely l-o-v-i-n-g my time living here in Chicago.
My life has changed in a lot of ways since I moved here two weeks ago, and I'm already realizing there are so many little material things that I heavily rely on every day when it comes to living and working in the city.
1. Reusable grocery bags. This is one of those "duh" products that I didn't think twice about until I moved here. With car: paper bags go from cart to vehicle to apartment. Without car: Paper bags go from cart to my hands, on a three block walk, through the L station turnstiles, up the stairs, onto the L train, down the stairs, back through the turnstiles, on another three block walk, up the stairs and to my apartment. Good luck not ripping the bags. I love the collection of tote bags at Society6, and they're much cuter than the reusable bags available at stores.
2. Granola bars and portable snacks. This is kind of a given if you work long hours pretty much anywhere, but cities get expensive, and stopping at a street vendor adds up. Kind bars are, hands down, my favorite portable snack, but I would really love to try Nourish Snacks if they ever become commercially available.
3. Headphones. I know most people own these, but I really never used mine too much. I don't like listening to music while I work and since my preferred workout is a yoga class, I don't jam out while I'm sweating. However, I completely panic now when I hop on the L and realize that I forgot mine. They make trains stuffed with screaming babies and swearing frat bros way more tolerable. Plus, these give me a way to stand out in Blackhawks territory. #LGRW.
Currently listening: New Passion Pit and new twenty one pilots.
4. A portable phone battery pack. The era of car charging is gone for me, and my phone is a city essential. I'm still learning my way around so the Google Maps app is crucial, and I check my Transit Stop app every time I get to a bus or L stop in order to check my wait times. This, combined with the heavy social media-ing I do on the daily as part of my job, kills my phone off pretty quickly.
5. Hand sanitizer. Unfortunately, it's kind of hard to find an industrial-sized bucket of this stuff — and even harder to find room in my purse for one — but after a day of touching endless turnstiles, revolving doors and handrails, you're going to want a lot of this stuff.
6. Good sunglasses. Also a transit necessity. Seats on the L are positioned just perfectly enough so that you're either staring at somebody's face, or their crotch. I love my Super Dupers because not only do they hide my errant staring (I love people watching), but they also politely let that idealistic young rapper on the street corner know that, no, I do not want a copy of his mixtape. Also, it's totally normal to wear your sunnies on the L when it goes underground. Thank gosh.
7. Friction block. Sometimes you want to disregard the comfy shoe advice for the sake of fashion. And that's totally fine. But when you decide to break in those new Steve Madden sandals while walking your 10,000 steps a day, this stuff will save your life.
8. Comfy shoes. My iPhone has a pedometer built into it. When I was living in my rural town, everyday activities had me registering maybe 2,000 steps on a good day. If I wanted to make my recommended 10,000 step quota each day, I had to actively look for ways to do so — after work park walks, parking at the back of the lot and walking, etc. Now, I top that 10,000 steps every single day without even trying. Between walking to CTA stops, walking through Tribune Tower and exploring all the things to do in this city, comfy shoes are a necessity.
9. A good (and large!) bag. I bought my Dagne Dover last summer when I lived in Mount Pleasant. It was good to me then, but it has been a lifesaver since I moved to Chicago. Now that I don't have a car to store things in, I'm forced to carry things on my person all day, so having a reliable bag to tote everything in makes all the difference. My other picks? This bag, this bag, this bag and this bag — all of which I have seen other commuters possess on the L.
∙∙∙
These are just a few of the things I've found myself totally relying on like never before. Obviously winter is going to be a whole new challenge.
Anything I forgot? What are your every day essentials you basically need in order to function? Let me know in the comments!
This post contains affiliate links. For more information, please read my disclosure policy.