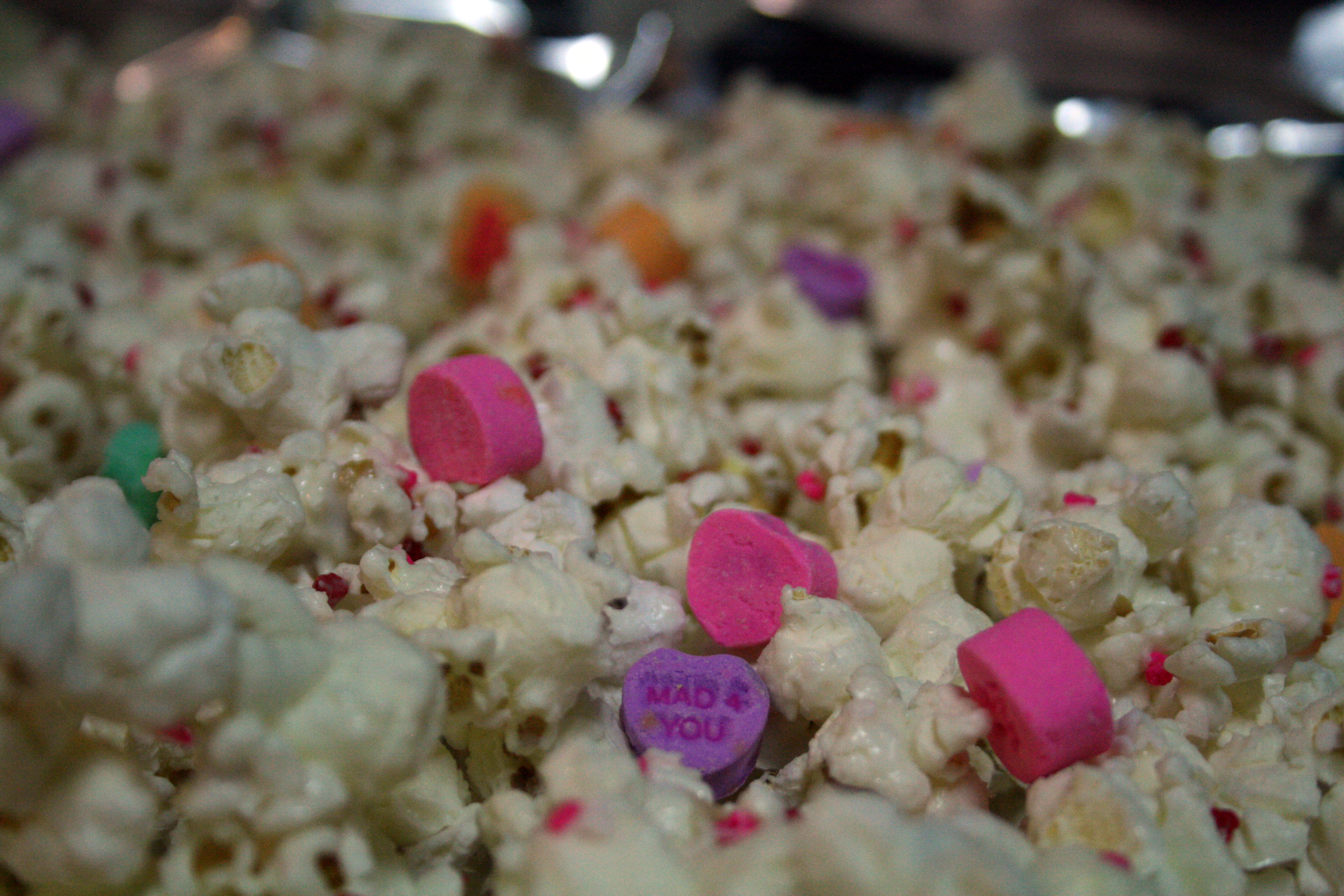 Are you getting sick of my lovey dovey mushy Valentine's Day themed posts yet?
They're almost over.
Promise.
I found this recipe for white chocolate conversation heart popcorn on Pinterest a few weeks ago when I was trying to help a guy friend come up with gift suggestions for his girlfriend. He didn't like the idea but I loved it. This Valentine's themed popcorn is really colorful and festive, and  – even better – it's simple and inexpensive.
So, of course, I gave it a try!
It really wasn't hard to do. And I love recipes that look super complex and time consuming but are really really effortless. You just need some plain (air popped) popcorn, white chocolate, sprinkles and candy hearts.
I skipped the salt and used about five cups of popped corn, half a bag of white chocolate chips, an uncountable amount of sprinkles and a fistful of conversation hearts.
My measuring skills are on point you guys.
Melt the chocolate, pour it over the popcorn, use a rubber spatula to gently fold the white chocolate in, and then add the sprinkles and candy hearts.
The trick is to spread the popcorn out on a flat surface while it hardens so you avoid having clumps of it if you just leave it in the bowl.
I'm impatient so I just stuck my popcorn in the freezer for five minutes.
Tah dah! So cute and festive. I'm planning on leaving a bowl of this out next week when Elise and I have a movie night with a couple of our girlfriends.
Plus, it's super fun because nobody notices that the popcorn is doused in white chocolate until they're tasting it.
Are you baking anything for Valentine's Day? Let me know in the comments!