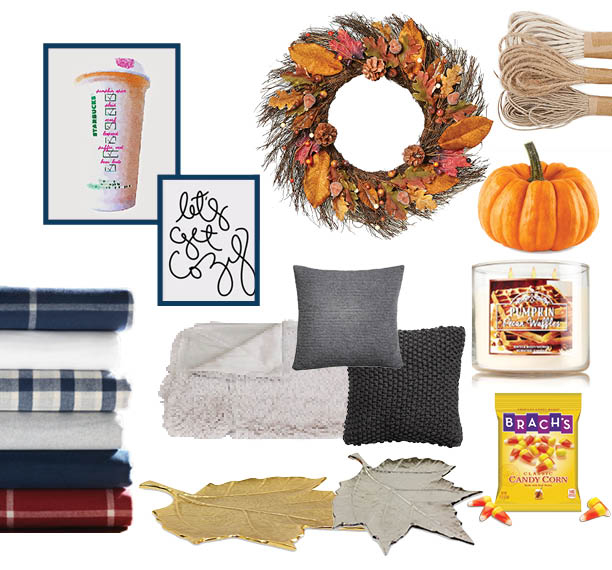 Happy Saturday! I left my window open last night, so I woke up to a cool breeze making its way through my kitchen this morning. Autumn is finally here! The fall equinox hit last week, and slowly but surely, temperatures are starting to drop and the days are getting shorter.
I'm still wearing skirts and short sleeves since the temperature hasn't dropped to flannel-and-boot weather just yet, but I've definitely started celebrating the season in other ways. I made my first batch of slow cooker vegetarian chili this past week, and I dedicated a portion of time this weekend to putting up my fall decorations and getting my little city apartment in shape for the season!
Here are some of my favorite ways to decorate my apartment for autumn. (Just a heads up, there are a few affiliate links in here!)
—
Fall-scented candles. I absolutely love candles during the fall and winter, but really, who doesn't? White Barn (Bath and Body Works) is one of my favorites because the three-wick candles are reasonably priced to start with, and are always running incredible sales. (Tip: Wait until late fall/ early winter to buy in bulk. Candles are marked down to $8 or $9, and you can use coupons on top.) Some of my favorites are Pumpkin Pecan Waffles, Mahogany Teakwood, Cinnamon Sugared Doughnut and Sweater Weather.
Wreaths and garland. I am a seasonal decoration whore and I'm not even sorry about it. JoAnn Fabrics is my favorite place to get decorations since they're seemingly always on sale. I reuse wreaths and garland year-after-year. Wreathes go on my door, over my bed and sometimes into empty frames in my gallery wall. Garland goes across my cabinetry and over doorways.
Twine. I always tuck at spool of this into my Rubbermaid container full of decorations. It actually comes in handy a lot. Curtain ties, wreath hangers, napkin bows, a little bit of extra decoration to a vase of flowers. You'd be surprised!
Halloween candy! I kind of hate that I use this as a decoration because I like to snack… a lot. But, it looks pretty and it's great to have on hand when friends stop by. I have tall glass apothecary jars I like to fill with candy corn and snack-sized chocolates.
Flannel sheets. I switch my blankets and sheets out for the season at the same time I start decorating for fall. I trade my white duvet cover for gray, and bring out the thick flannel bedsheets. L.L. Bean makes an amazing flannel set that I had when I was a kid, but now I have pieces from West Elm that matches the rest of my bedding.
Fall prints. In the past, I've swapped out some of the art in my gallery wall with fall-themed pieces. I probably won't this year, but in the past I've used this adorable print from History in High Heels. I also love to scrounge Etsy for pieces, and I design a lot of my own art as well. If you want to make your own and are feeling pretty lazy, the easiest thing to do is to find a photo on the internet and stylize it in Photoshop.
Throw pillows and blankets. Breaking out my cozy throws is one of the best things about the chill in the air! I have this simple blanket that I got as a Christmas gift a few years ago, and Restoration Hardware has amazing items if you feel like splurging. When it comes to pillow covers, H&M is one of my favorites. The fast fashion retailer has tons of low-cost options that are easy to switch in-and-out for the seasons. I am a throw blanket queen, and I always ask for a new piece to add to my collection every Christmas. You can never have too many!
Themed catch-alls. I have a few little bowls for odd-and-ends (think: keys, bobby pins, gum, etc.) that I keep around my apartment. These are fun to switch out in the fall! I have a cute little candy corn-shaped dish that I found at a thrift store, but I really like these cute leaf-shaped options at One Kings Lane.
Mini-gourds! I always love to grab one or two when I make apple orchard and cider mill trips, but you can also grab them at your local grocery store. There's already a bin of them that's popped up at my local Mariano's for the season!
—
How do you decorate for fall? Let me know in the comments!
This post contains affiliate links. For more information, please read my disclosure policy.