PopSugar Must Have Box review: September 2016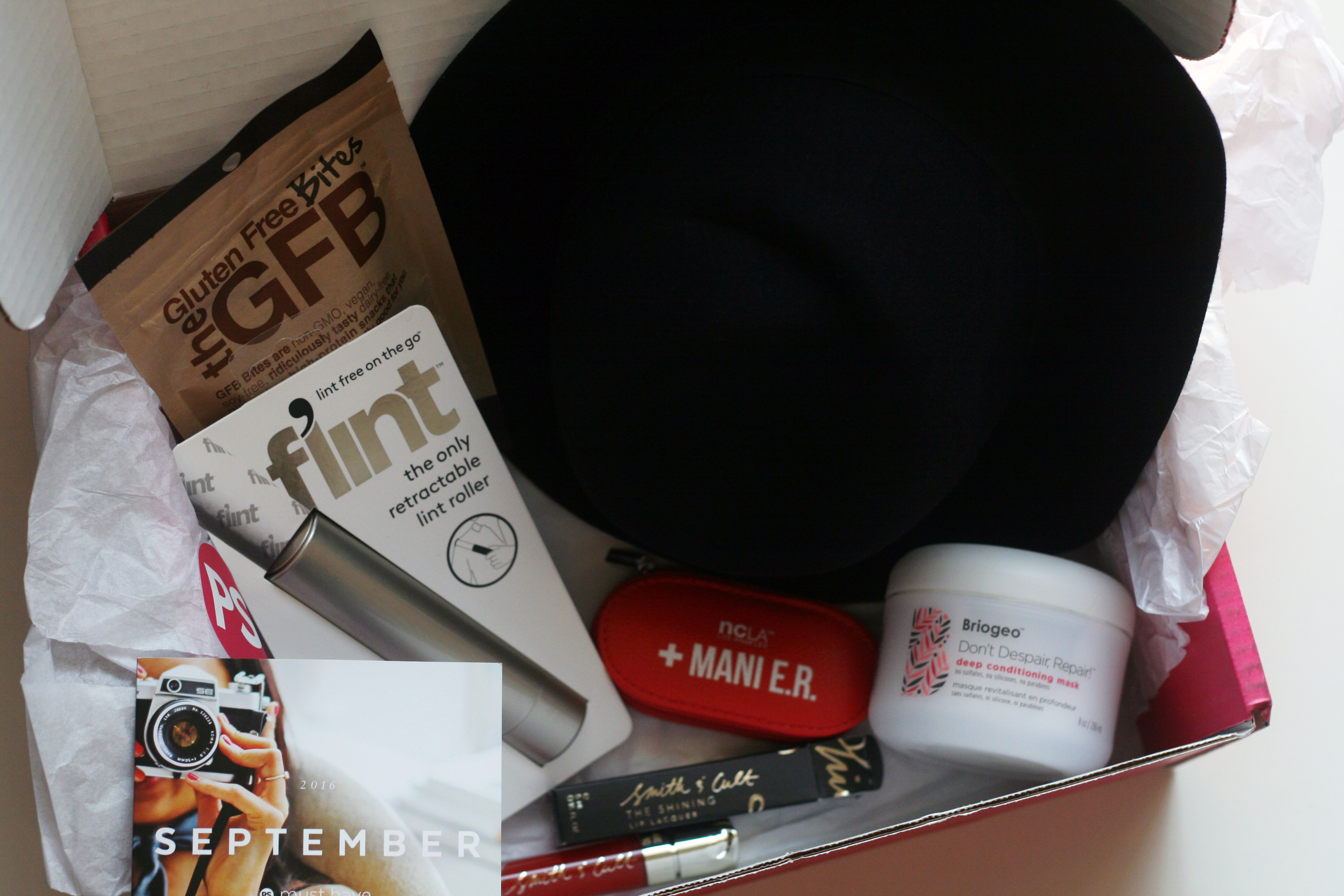 I absolutely love getting mail, which might be why I online shop so much. I love coming home from work to see a small pile of packages sitting outside my door.
And in addition to mail, I also love surprises! Of course, while it's easy to send yourself mail, it isn't quite so easy to surprise yourself. So, that's where cute monthly subscription boxes come in handy.
One of my friends posted an Instagram photo of a Valentine's Day themed monthly subscription box from PopSugar about a year and a half ago. It was overflowing with goodies from Essie, Tarte and Baublebar, among others. I made a mental note to sign up for a short-term subscription, but ended up completely forgetting.
So, when PopSugar reached out and asked if I'd like to try the September 2015 Must Have Box, the answer was definitely a "yes!"
The fun pink and white box stood out in my building lobby when it finally arrived at my apartment, and I was incredibly excited to open it. Here's what was inside:
Jack and Lucy wide-brim hat. I have always loved fedoras — I even took my high school senior pictures in them! So, I was really excited — albeit weary — when I saw this hat perched on top of my pile of goodies. Because yes, I love hats, but also? I have a freakishly small head. But, this genius hat has that covered. It's adjustable! There's a drawstring inside the brim so you can pull it tighter to your noggin. Genius, right?
NCLA Mani E.R. kit. This is really, really cute, and most importantly, practical. I've already stashed it in my purse to use for later.
Briogeo conditioning mask. With winter approaching (eek!) this could not have been any better timed. I was excited to see that this mask is sulfate-free and paraben-free since I don't use either in my shampoo or conditioner. Plus, it only takes five- to- ten minutes to use, which is great, because I am not the most patient person when it comes to beauty regimens.
Flint portable lint roller. This is super nerdy of me, but I was honestly most excited to see this lint roller when I first opened up the box. I've seen ads for these on social media, and they looked absolutely perfect for stashing in my purse or overnight bag. I don't have a desk at work so I live out of my purse, and that means I'm a sucker for anything travel-size!
Smith & Cult lip lacquer in "The Warning." This is a really pretty gold-flecked pink lip gloss. It's sheer, and it feels a bit heavy, but it isn't goopy or sticky? It was a little weird to get used to, but I actually really like it! This color is also pretty flattering on my pale cool-toned skin.
The Gluten Free Bites. This is another product I'd been wanting to try, especially because it's a Michigan-based company! I always see these packaged up near check-out counters whenever I grocery shop but had never picked a bag up, and apparently I was missing out. These were really good! They're little energy balls filled with a chocolate-y center and covered in shredded coconut. One serving — two pieces — has 100 calories, which is a little high for a snack, but I think these would be great for after a workout.
Overall, I'm really happy with the September box. There were a few products I had been meaning to try, but also a few brands I hadn't ever heard of. One of the coolest things about blind subscription boxes is the fact that they bring smaller companies into the spotlight and give subscribers a chance to try brands they've never heard of before, and this definitely did just that.
If you want to give the PopSugar Must Have Box a try, I would recommend it. You can sign up here, and use the code SHOP5 — which never expires — for a discount on your first box!
If you don't like surprises — or are way too impatient to wait for your mail day — you can totally stalk the #MustHaveBox hashtag on Instagram to see what treats you're in for that month.
And — as a full disclaimer — while PopSugar sent me this box entirely for free, I did not receive monetary compensation and all opinions are 100 percent honest and my own.