Vegetarian Crock Pot recipes for fall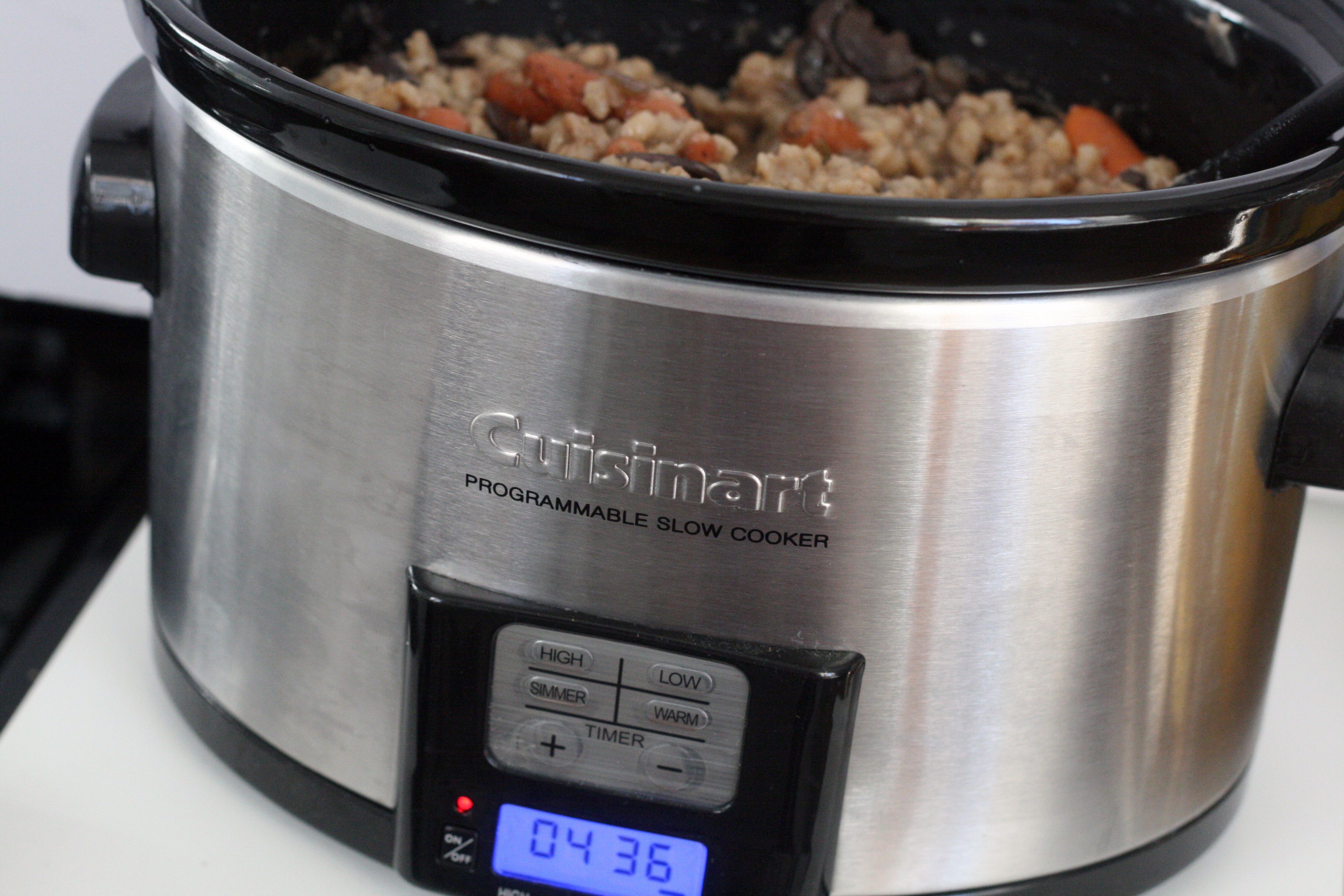 One of my favorite things about chilly weather is… well, chili weather!
I absolutely love my slow cooker. And while I might break it out in the summer to whip up a batch of queso or a molten chocolate lava cake, it isn't really too uncommon to find myself wiping a layer of dust off of it come October. Fall really and truly is the season for Crock Pot recipes, and I take full advantage every year.
I don't eat meat, and sometimes it can be hard to find a good variety of one-step vegetarian dinner recipes prepared in the slow cooker. I mean, there are only so many versions of chili one girl can eat!
But, after a few years of heavy slow cooker usage, I've managed to find a small diverse handful of reliable, easy and delicious vegetarian Crock Pot recipes. And the best part? Most of them are easy to portion out and freeze in advance, so you can grab-and-go for healthy and cost-efficient office lunches.
Sweet potato chickpea chili. OK, so I know this recipe from Sweet Peas and Saffron has the word "chili" in the title, but it's far enough removed from the traditional chili that I don't think it really counts as chili. When I make this, I use one onion instead of two and two sweet potatoes instead of one.
Black bean soup. This recipe over at Budget Bytes is easy, filling and — best of all — cheap! It breaks down to about 80 cents a serving (!!!) and uses a full bag of dried beans, which means there is close to no prep work. I love to eat this with a thick slice of my mom's multigrain bread.
Vegetarian chili. You knew there was a chili recipe coming, right? This version from Gimme Some Oven is my absolute favorite. I use farro, halve the amount of tomato sauce, substitute extra broth for the beer and use a combination of kidney and pinto beans. I also sauté the diced onion before adding to the pot. Possible toppings include sour cream or Greek Yogurt, Ritz crackers, avocado and shredded cheese.
Root vegetable and lentil stew. Is it cheating if I include my own recipe in here? Regardless, I make this one at least twice every winter. It's thick and hearty, and even though it requires a fair amount of chopping (you've been warned), it's worth the prep. Pst, please disregard the less-than-stellar photos. This was taken during my first foray into blogging and needless to say, my entry-level efforts were obvious.
Mushroom barley risotto. The barley in this tends to turn to soggy mush when you freeze it and reheat it, but it's fantastic fresh and really easy to make. I add twice the thyme, sauté some garlic in with my onion and double the parmesan.
Enchilada quinoa bake. This Cooking Classy recipe is a fun Mexican twist on quinoa, and is by far my favorite Crock Pot quinoa dish that I've found. I first gave it a try a few years ago and it's been a staple ever since.
Stuffed bell peppers. Yep! You can make these in the Crock Pot. My version, which uses tomato sauce, is thrown into rotation several times a year. I can easily fit five bell peppers into my slow cooker, which makes just enough for a week's worth of lunches.
The easiest corn chowder you will ever make. This isn't the healthiest option on this list, but it is probably one of the easiest.
–
Now, let's talk slow cooker specifics. First — fun fact — did you know that "Crock Pot" is a name-brand? So, if you're talking about non-Crock Pot branded slow cookers, you should use the phrase "slow cooker."
If you don't have a Crock Pot — or a slow cooker — I would highly suggest you invest in a programmable one. I used to have an off-warm-low-high model because my former job was close to my office and I could flip it on during my lunch break, but I recently bought this model from Cuisinart (affiliate link). It was a little pricey, but was totally worth every penny. I can program it in the mornings before work and then once it's done cooking, it will automatically flip to warm mode for an additional eight hours, so nothing overcooks or goes bad while I'm finishing up work. It's a little bit on the small side at 3.5 quarts, but since I live alone and usually cook for one or two, it's just perfect for what I need it for.
What slow cooker recipes do you like? I'm seriously always looking for a no-fuss easy-to-make recipe that I can use time and time again. If you have one, leave it in the comments!