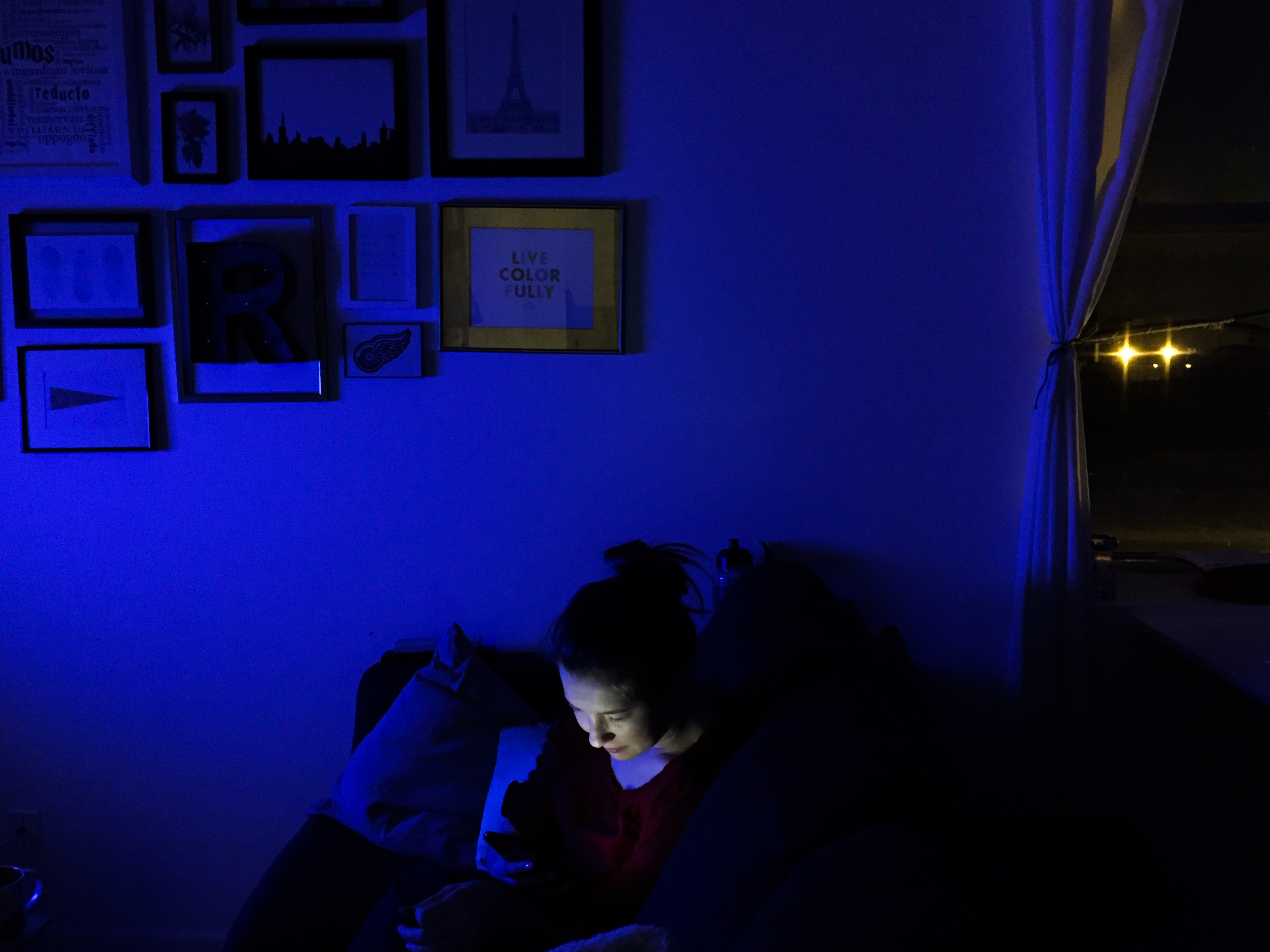 Hey hey!
I figured it was due time for another update. I try to do these every other month or so since I have family that keeps up with my life here (hi Mom!), but it's winter… so life lately has been incredibly slow, and there hasn't been too much going on. Except, yunno, watching Netflix and working. Regardless…
Netflix binging.
Photo by Armando L. Sanchez
∙∙∙work∙∙∙
Things on the work front are still the same thing. I'm shifting around in the digital department lately covering a little of this and a little of that, but mostly focusing on social media.
I'm still guesting on a weekly show at WGN Radio, though, so if you ever want to hear me awkwardly talk really fast about social media and laugh a lot with Steve Bertrand, you can do that here.
Photo via WGN Radio
∙∙∙friends and family∙∙∙
This is kind of a big deal… but my work bestie Kasondra finally moved into the city! She had been living out in the suburbs for the past two years, and now she's only a short bus ride from my apartment. I am seriously so excited. Our Netflix-Portillos-and-chill nights will never be the same.
Portillo aka: Till/ Tilly! Kasondra's furbaby roommate.
∙∙∙dining∙∙∙
I've been living off tofu pho from Cafe Hoang lately since it's cold and flu season, and I'm pretty sure pho is a cure-all. I've also been drinking a lot of wine since the inauguration: City Winery and Rootstock have been two favorites. Because I'm always down for anything off the sweet part of the breakfast menu, I've been relying on my two favorite go-tos: Kanela and Bongo Room. I also finally gave Yolk and Wild Berry a try, and both were super good. I tried a new tapas restaurant — Spanish Square — the other day, and recently ate this crazy awesome Thai stuffed pineapple (I was literally served a hollowed-out pineapple!) at a place called Sticky Rice. This past weekend I gave Bad Hunter a try, which is super exciting because I love veggie-friendly restaurants, and made a final visit to Swedish Bakery before it closes tomorrow. I also went to Gold Star in Wicker Park this past weekend, and while I'm not sure it qualifies as "dining" because there's no food, I love a good dive bar and also this one allowed doggies inside. A+ for you, gold star.
Also… tomorrow is Fat Tuesday! I live for my paczki and look forward to Lent every year for these God-sent sweets alone. This interactive map detailing all the paczki-selling locations today and tomorrow is gold. The Swedish Bakery cheese and the Glazed & Infused custard are two of my favorites, so seriously, don't settle for cheap Jewel paczki, guys.
Top row, left-to-right: Yolk, City Winery and Kanela
Bottom row, left-to-right:Wild Berry, Spanish Square, Cafe Hoang
∙∙∙shopping, aka: affiliate link alert!∙∙∙
This winter has just been… weird. Snow hasn't accumulated at all this January or February, so even though Mando got me this amazing pair of Sorel boots for Christmas, I haven't worn them in two months. I've been rotating between my Barbour for warmer days (there are a lot of them) and my parka for the actual cold days, when it dips below 35. (I get way, way too warm if I wear it when it's above freezing.) I've kind of hit the point in the year where I'm over layering and making cute outfits, and I basically just wear the same pants + boots + sweater combination every single work day, and the same leggings + Patagonia outfit on off-days.
I am really looking forward to spring weather, though! I got a few cute dresses (one, two, three, four) from Modcloth during a holiday sale, and they've been patiently tucked in the back of my closet waiting for the spring.
Since I've been mostly in a fashion slump while waiting for the warm weather, I decided to just go ahead and embrace it. So far, I'm six weeks without shopping, excluding a bridesmaid dress purchase I had to make. Once I make it 12 weeks (halfway there!) I'm going to buy myself these pumps. Swoon.
∙∙∙etc.∙∙∙
I'm currently reading two books: The 24-Hour Wine Expert by Jancis Robinson at the recommendation of a coworker, and The New Ethics of Journalism from the Poynter Institute, because I'm kind of a nerd. I'm finally almost all caught up on New Girl thanks to last week's six-day illness that kept me out of commission and in front of my TV for three straight days, and I finally started on House of Cards… but I have a feeling it's going to take me quite a while to catch up on that one. I watched the Gilmore Girls revival and absolutely hated it. Also, I finally joined Spotify Premium! You can follow me at randimshaffer.
What else? I recently got my hair cut by Taylor at Civello in Lincoln Park (she's a goddess) and I've been obsessing over my core classes at my yoga studio… which is good, because tomorrow is Fat Tuesday and I'm gonna need to step up those core classes, ASAP. I got a KitchenAid for Christmas, so between the paczki and the baking… yikes.
I also redesigned my site! Well, kind of. I went through a little rebrand with my fonts/ colors/ logo about six months ago, and I decided to tweak the layout this time around. Part of the reason I still keep this little blog around is so I can practice web design/ CSS/ HTML on it, so it's always just a little work in progress to me.
Anyway, there's a spare paczek (singular form of the word paczki) staring at me from my dining area, so I think I'm going to go scarf it down and then wallow in my self-pity. Until next time!
This post contains affiliate links. For more information, please read my disclosure policy.