Fired up for college homecoming!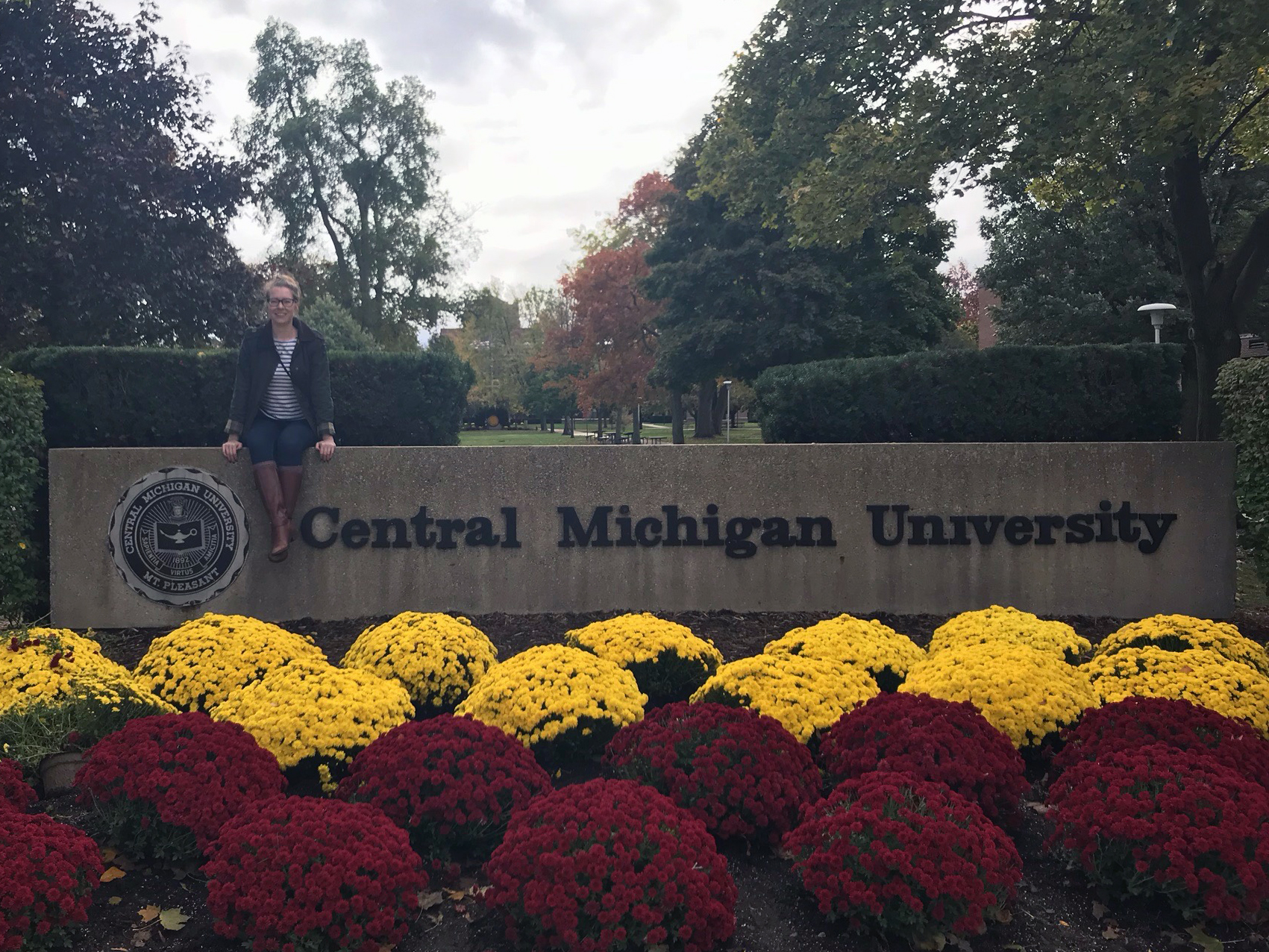 You guys, I had the most fired up birthday weekend ever.
I've made it a point to go back to Mount Pleasant for every single homecoming weekend since I graduated from Central Michigan University in the spring of 2012.
Granted, I was living in town for two of them while I was attending grad school and working for the local paper, but for the past three years I've been living in Chicago, I made it a point to make the trek back to Mount Pleasant every fall to spend time on campus and celebrate with friends.
So, when I saw that homecoming was literally on my birthday this year, my annual visit was absolutely non-negotiable.

I booked a hotel room six months in advance (rooms book early in little towns that center around a big university with a big alumni base!) and requested the time off work.
I was a little bummed because Mando was supposed to come on my birthday trip with me, but he ended up flying to Los Angeles for the NLDS instead, so I ended up renting a car and going by myself. It was still a really fun trip!
I didn't get as much of a head start as I wanted since I had a wedding in Indiana Friday night and woke up a little hungover on Saturday morning, but I made it up just in time to walk through the tailgate lots and meet some of my student newspaper alumni friends for the 3:30 p.m. game at Kelly/Shorts Stadium.
It was rainy and gross and so miserable — especially sober — so we ended up leaving before halftime and heading to the Cabin, which is actually the bar I used to work at during undergrad.
We had Cabin Sticks, Thunderbirds, Long Islands and, of course, pizza! Turns out, also, we didn't miss much because our school lost the game pretty badly.
We were a Top 25-ranked team when I was in undergrad during the Brian Kelly to Butch Jones era, so knowing my team isn't as good as it used to be is a little sad, but I still love my Chippewas.
After the Cabin we checked into our hotel room on the north side of town. Like I said, basically eeeveryyy hotel was booked well in advance, so even though I booked my room six months ahead of time, pickings were still slim. I ended up getting a room at the Saginaw Chippewa Indian Tribe's Soaring Eagle Waterpark and Hotel, which is relatively new and pretty nice, even if it was pretty far from campus and the downtown area.
After we changed out of our soaked clothes and got ready, we took an Uber to the "student ghetto" north of campus for a CM Life alumni reunion party.
It was seriously so good to see everyone. I met a tooonnnn of aspiring student journos currently working at the paper (If the beer pong table in the room didn't make me feel old, the teenagers did!) and saw dozens of other Life alumni.
After a few hours drinking my favorite Mount Pleasant beer and playing catch-up, we walked downtown to go to (no exaggeration) MY FAVORITE BAR IN THE HISTORY OF ALL BARS EVER.
We waited in a line that wrapped around the block (worth it) before dipping inside and ordering beers. We immediately ran into another CM Life alumna… which reinforced the fact that the Bird will always be home because five years after graduation, I can still walk in and run into familiar faces and know the bartenders.
After a few hours singing along to Journey, tossing peanut shells on the ground and just soaking in all the amazingness that is The Bird, we closed down the bar and left to go get hot dogs at Dog Central, the late-night eatery around the corner.
I got the Sonoran, which is basically taco toppings on a (veggie) hot dog.
We went back to the hotel afterward, and woke up the next morning for Stan's! We picked up Jake and Ivy from their hotel and then went downtown for breakfast.
Stan's is just about the only local breakfast restaurant in Mount Pleasant, so it was another long wait for a table. We didn't mind, though.
Afterward, we all went to go find our respective cars, which were left at various bars and parking lots overnight, and said our goodbyes.
I went for a quick walk around campus and a drive through town before heading back to Chicago.
I truly miss Mount Pleasant way, way more than I ever thought I would. I was really lucky, and had a really amazing university experience, so I think that might contribute to my love of all things CMU.
It was really interesting to see how much (and how little) the city has changed since I moved away in the spring of 2015. Some favorites — like Market on Main, UCup and the original Kaya — are long gone. But some — like *shudder* O'Kelly's, Max and Emily's and The Bird (OF COURSE!) are still the same, comfortable old favorites.
As a side note, businesses in Mount Pleasant don't really have websites because everybody just knows them. It's weird.
Anyway. I'm so sad the weekend went by way too quickly, and I'm already eager for next year's homecoming.
Fire Up Chips!