A weekend in Boulder + (a little bit of) Denver, Colorado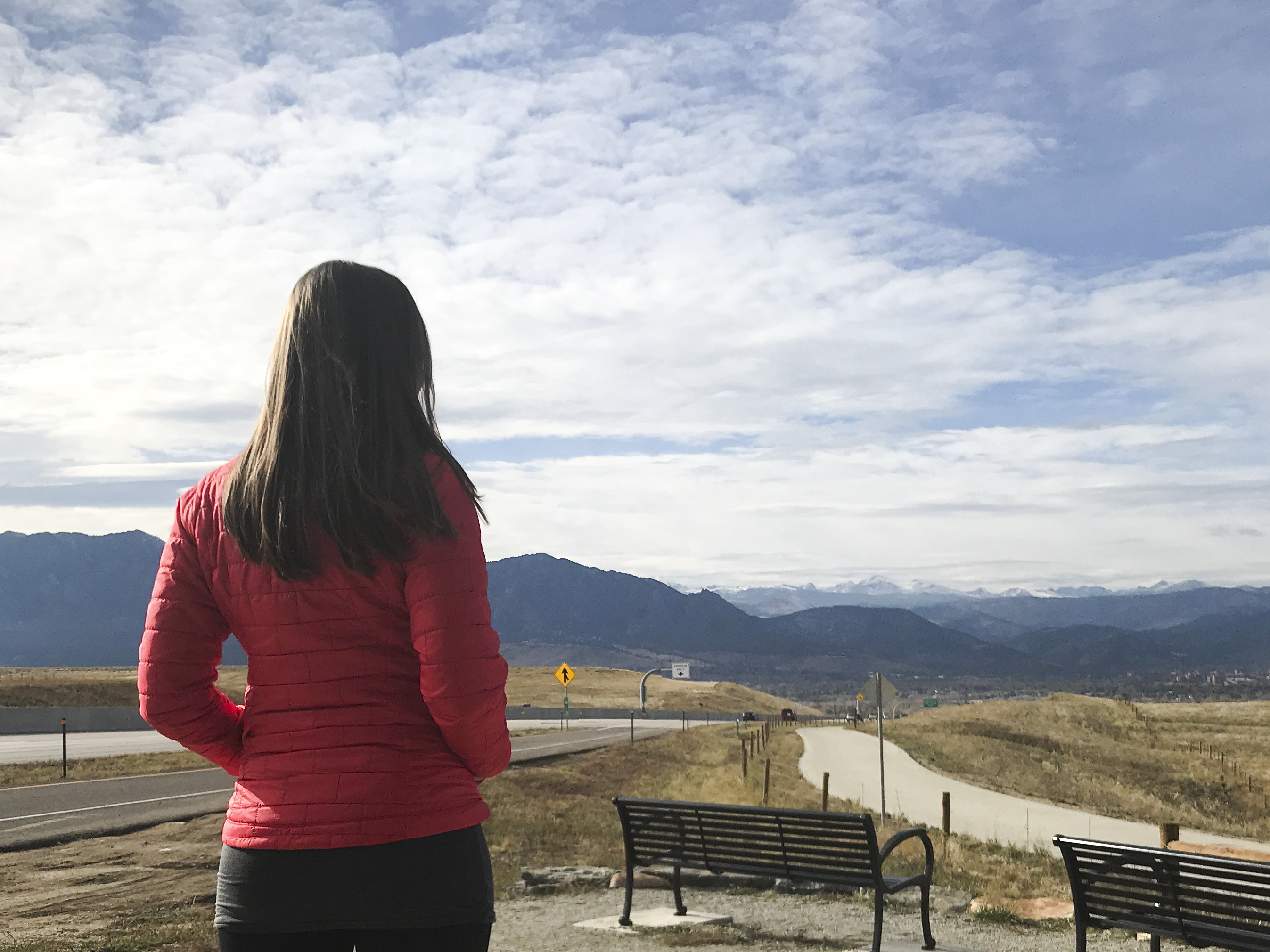 Happy Sunday!
I can't believe it was only 24 hours ago I departed Colorado, and only four days ago that I arrived! I've talked before about how much I love whirlwind weekend trips, and spending the past few days next to the Flatirons was no exception.
When my old coworker Sara took a new job out of Boulder this past summer, she asked if I'd be interested in visiting. No joke, I had my flight to Denver booked less than 24 hours later. I've always wanted to visit Colorado, so when I found a $92 round-trip flight that aligned perfectly with my work weekend, I jumped.
When I first got into town, we grabbed dinner at City O' City, a vegetarian-friendly restaurant in Denver. I had the vegan buffalo mac and cheese wrap, and holy crap — it was amazing.
Afterward, we went to a bar near Sara's place called Outback Saloon and ended up getting way too invested in the World Series. (Cheering for the Astros, btw! Get it JV.) We kept our eyes glued to the TV for hours before calling it a night.
The next morning we woke up and went to Snooze for brunch. I had a freaking pancake flight that I think I gained 30 pounds from. It featured a blueberry coulis-topped buttermilk pancake stuffed with lemon cream cheese, and a sweet potato pancake topped with candied pecans and caramel sauce. Holy crap.
At this point, Sara told me she basically planned my entire trip around food and I wasn't upset about it in the slightest.
After breakfast, we looped around to a highway overlook that jutted over Boulder and admired the mountains before heading over the Avery Brewing for beer (I think I probably consumed about a gallon of White Rascal during the entire trip) and then Upslope Brewing Company for more drinks (Citra Pale Ale).
At this point, it actually started to snow… and then to accumulate! I love, love, love snow, and it was really exciting to experience my first snowfall of the season in Colorado. It was seriously stunning. Every tree ended up covered in a dusting of white and it gave me a glimpse at how beautiful this state must be come winter.
We went back to Sara's to binge out on The Good Place for a bit before we took a Lyft to Pearl Street for more beer (raspberry wheat) at Mountain Sun Pub… where we also stuffed our faces full of nachos and cheese fries.
Then, we walked off our food with a stroll down the now-snowy pedestrian-friendly area of Pearl Street before continuing our drinking spree with stops at Boulder Beer and the Sundown Saloon, at the suggestion of a friend who graduated from University of Colorado Boulder.
I love a good dive bar — especially one that features PBR so prominently — and I'm pretty sure I'd have practically lived at this bar had I gone to school here. Thanks for the recc, Esteban!
After a looong day full of beer and food, we called it a night so we could wake up early to head to Red Rocks.
All the snow was still on the ground when we woke up, and I can't even begin to explain how beautiful the drive was. Everything was white and glittering. You'd drive around a corner, and then suddenly end up staring right into the sloping side of a mountain.
Colorado, you are stunning.
And… then Red Rocks!
I was surprised to see that there was actually an entire museum built into the site, centering around the history of the Red Rocks and the musicians that have performed on the stage.
The view from the top of the amphitheater was breath-taking.
We walked around and climbed like five million stairs and then headed back into Denver for lunch (and more beer) at Historians Ale House.
Afterward, we explored the Denver Botanic Gardens before going back to Sara's for a nap (seriously… those stairs!) and then walked over to Rayback Collective, where we had — you guessed it — even more beer.)
I wish I'd taken photos at Rayback, because it was really cute. The bar itself was pretty big — a cavernous warehouse with one part sectioned off into space for private events. However, the big draw was the patio space, which was fenced in and filled with corn hole boards, a fire pit and picnic tables. The patio was canopied with string lights, and one side of the space was filled with parallel parked food trucks.
I ended up with a few more glasses of Avery's White Rascal before grabbing some takeout containers from The Ginger Pig full of Japanese street corn and vegetable egg rolls.
We stayed at the bar until closing, chatting and watching yet another Astros win in the World Series.
The next morning, Sara and I grabbed Honey Pot lattes at Flatiron Coffee and then braved the long wait (thanks, CU Boulder homecoming!) for granola-topped pancakes topped in syrup at The Buff.
Afterward, we headed back to Pearl Street to check out some of the businesses that hadn't been open during our Thursday post-bar walk. After stopping at coffee shops and book stores, we headed to the Denver airport so I could catch my afternoon flight back to Chicago.
I really, really loved both Boulder and Denver. Boulder reminded me a lot of Ann Arbor, Mich., but located at the base of a mountain. It was a really young and vibrant town that had a lot of culture, but didn't let the local university completely steal its identity.
Anyway, I'm hoping I can head back to see the city during the summer and winter, because I feel like northern Colorado does pretty much every season well.
Thanks for letting me visit, Sara!