Packing for a fall weekend in northern Colorado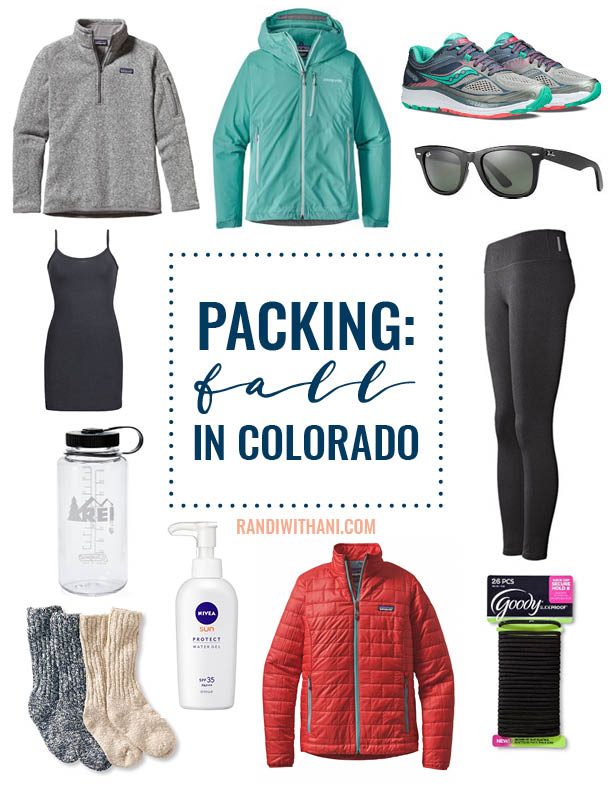 Oh hey guys, happy Sunday! It's 60 and rainy here in Chicago, buuuttt at least the weather is holding steady this weekend — unlike last weekend in Colorado.
When I started packing for my trip, I took a look at the forecast for Boulder. And… whoa. It had me flying out of 40-degree Chicago weather into 85 degrees in Colorado!
Then, that night, it was scheduled to drop to 20 degrees.
So… yeah. A forecasted 60-plus degree drop in temperature. Plus snow, and rain.
Alllll in a carryon.
Seriously Midwest, I will never knock your weather habits again.
Anyway, I wanted to share a little bit about what I packed, including what I didn't wear, what I did wear and what I wish I'd brought.
(Pst, affiliate links!)
fleece ・ rain jacket ・ running shoes ・ sunglasses ・ tank top ・ leggings ・ water bottle ・ socks ・ sunscreen ・ puffer jacket ・ hair ties
I dressed for Chicago weather on the flight into Denver, wearing my favorite leather boots, skinny jeans and a lightweight blouse, topped with my Barbour jacket and vest combination.
When I got to Boulder Wednesday afternoon, the temperature was just about peaking at 82 degrees. I shrugged off the vest and jacket and was comfortable in my blouse and skinny jeans for the rest of the day, pulling a knit cardigan on when night fell.
For a Thursday full of brewery hopping and exploring, we were met with a low of 32, a high of 68 and forecasted rain. I opted to wear a classic oxford shirt, my cardigan, my Barbour jacket sans vest, oxford shoes, jeans and a pair of leather gloves. It didn't end up raining, but it did end up snowing! I switched out of my oxford shoes and into my leather boots and soon as the flakes started falling.
Friday was a little chillier. The low was 30 and the high was 45, and there was still snow leftover from the day before. We spent most of the day outside, so I went with logic: layers. I wore my running shoes with leggings, a tank top (this one is super long and covers your butt!), a fleece and my puffer jacket. I also wore a fleece headband and gloves.
As a side note… the Boulder dress code can basically be described as "Layers and layers of mostly Patagonia." Safe to say, I fit in. So much so that I actually just kept wearing this entire ensemble for the rest of the day, even out to dinner and the bars… although I traded my running shoes for those leather boots after we were done hiking stairs.
Saturday was a little more reasonable, with a low of 37 and a high of 59. I was only around for part of the day, so I went simple with my jeans, a striped shirt, my knit cardigan from Thursday, those leather boots and my Barbour.
Here are, hands-down, the best things I packed:
Honestly, if I could redo this whole trip, I would probably ditch my blouses and cardigans and pack enough fleeces to get me through the whole weekend, assuming they'd all fit in my suitcase. They were super warm, great for any and all activity and pretty much what everyone else wore also. I'm really not an athleisure person, but I guess I sometimes function overrules fashion. I love my Barbour, but it got really cumbersome to carry around by the end of the trip, and I think my puffer jacket would have sufficed every day.
My Longchamp bag was great for stashing in Sara's car to hold my water bottle and unwanted/ just-in-case layers during outdoor adventures, and my crossbody bag was perfect for brewery/ bar hopping. I wore a pair of thick socks under my leather boots every day, and they kept my feet more than warm enough.
So, here are some things I packed, but didn't use:
Duck boots
Umbrella
Half my makeup
Hair straightener
Do I regret bringing my rain gear? No. I know hands-down that if it had rained instead of snowed, I would have used it all. My Bean boots are always a little cumbersome to pack, but the umbrella and jacket fold down pretty small.
Also — surprise! — I didn't once spend more than five minutes on my makeup or two minutes on my hair. I put three products (and sunscreen!) on my face and air-dried for the sake of simplicity. Those hair ties got a lot of use.
And, some things I didn't pack that I wish I would have:
A drawstring backpack
My DSLR
The backpack would have been even better than the Longchamp, and I don't think my iPhone camera did some of the views justice… although, I don't think any camera could.
There were a few things I was considering packing, but ultimately didn't — and I'm glad. I was on the fence about bringing my parka when I saw the 20-degrees forecasted, but the temperature didn't dip that low until we were already back inside for the night. I'm glad I didn't have to deal with the bulk. I was also on the fence about bringing hiking shoes, but since we ditched actual hiking in favor of stair-hiking at Red Rocks, I'm glad I didn't. I guess I'll save those for next time… because I'm sure I'll be back!
Shop the post:
This post contains affiliate links. For more information, please read my disclosure policy.