Slow cooker enchilada quinoa bake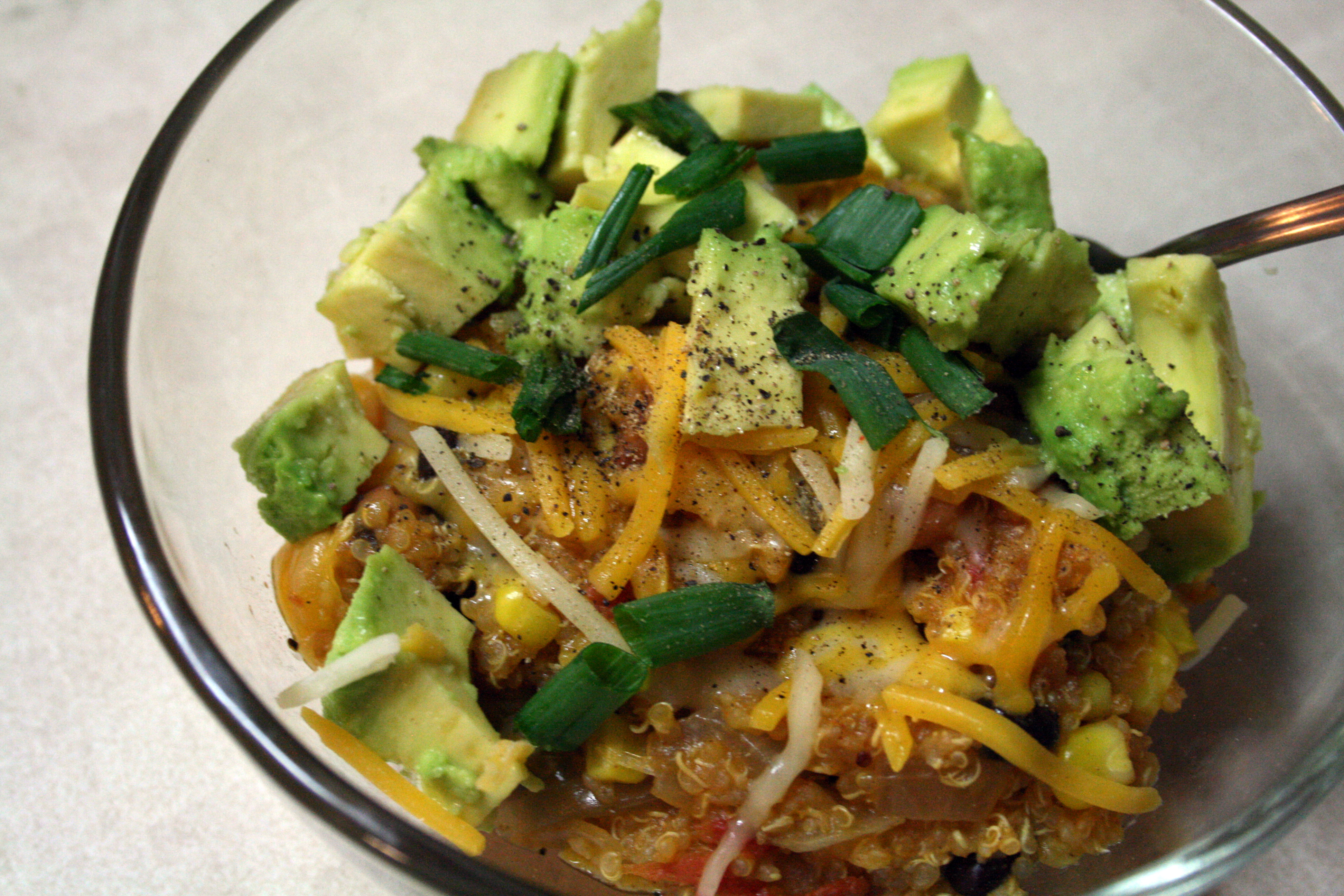 Sundays are for slow cookers.
I started making Sundays my cook days when I was in grad school, and that was out of necessity rather than just convenience. If I didn't cook myself enough food to get me through the whole week, I often just relied on fast food or didn't eat all together.
Not healthy.
Now I have a lot more free time, so cooking throughout the week isn't a hassle. But still, I kind of missed the slow cooker Sunday routine of getting out my Crock Pot and making myself enough hot food to last the whole week. It's a really relaxing way to end the weekend, make great use of the groceries I just bought and give myself another way of feeling super prepared for the coming week.
I stumbled across this recipe on Pinterest and decided to give it a try. I always get really thrilled when the delicious-looking recipes that pop up in my feed are vegetarian! I made a few tweaks, but this is a really good recipe!
–
You'll need:
1 tbsp. olive oil
1 medium sweet onion, chopped
1 red bell pepper, chopped
2 tbsp. minced garlic
1 1/2 cups (dry) quinoa
2 1/4 cups vegetable broth
1 14.5 oz. can of tomatoes with green chiles, undrained
1 14.5 oz. can black beans, drained and rinsed
1 14.5 oz. can pinto beans, drained and rinsed
2 cups frozen corn
1 cup Mexican blend shredded cheese
1 8 oz. can of tomato sauce
1 tbsp. chili powder
1 t tbsp. ground cumin
Diced avocados
Chopped green onions
Salt and pepper to taste
–
Sauté the onion, bell pepper and garlic in the olive oil until the onion is translucent, about three minutes. Add the garlic and sauté about a minute more. Pour into slow cooker.
Add the vegetable broth, quinoa, canned tomatoes, tomato sauce and season with salt and pepper. Cover and cook on high for about an hour before adding the chili powder and ground cumin, as well as salt and black pepper to taste. Continue cooking for about another hour and a half, until all the liquid is absorbed and the mixture just starts to stick to the sides of the pot when stirred.
Add in the pinto beans, corn and black beans, and stir. Top with the shredded cheese and cover, heating until the cheese is melted.
And that's it! Scoop it out of the slow cooker and top with diced avocados, green onions, and more salt and pepper if desired.
This recipe said it serves about seven to eight.
I feel like it's really rare when something from Pinterest turns out as expected, if not better, and this recipe definitely exceeded my expectations. I've never been a fan of overly spicy food so I toned the chili powder down, and I'm glad I did. I think my recipe ended up perfect.
My two favorite go-to slow cooker recipes are my root vegetable and lentil stew and my vegan stuffed peppers, so I'm glad to have another relatively healthy recipe to add to my arsenal!
Any other slow cooker recipes for me? Leave them in the comments!