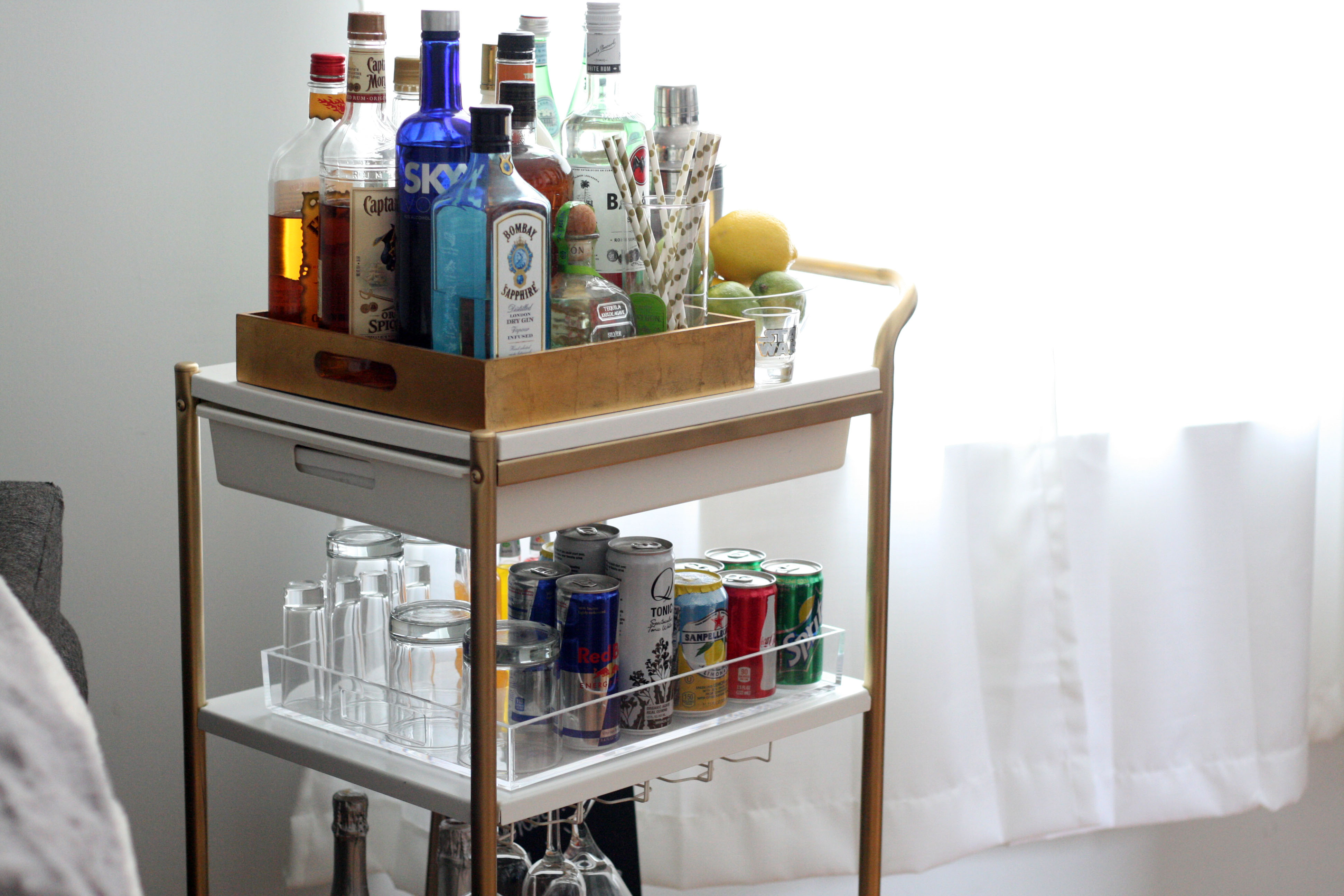 As a journalist, my No. 1 priority is accurately reporting the truth for the wellbeing of the general public.
My No. 2 priority is drinking.
Just kidding. Kind of.
Jokes aside, my Mount Pleasant apartment came with a large and beautiful built-in bar. Elise and I mostly used it for food storage, but also hid a fair amount of booze in there as well.
I knew when I moved into my new Chicago apartment, a bar – or a bar cart, at the very least – would be a much-needed addition to my space.
There's just something about a beautifully-stocked and styled bar that says "I totally have my shit together," you know?
I looked for bar carts online for a while, but was having trouble finding something small enough to prop up against my kitchen counter's end cap.
I ended up stumbling upon Ashley's version on Pinterest, and knew I could make the project work. (This is the second History in High Heels project I've ripped off – this being the first. Sorry Ashley! You're such a creative genius.)
So, IKEA bar cart hack it is!
(And as a bonus, my No. 3 priority is saving money, so the roughly $40 cost to this project was a huge score.)
I had assembled the cart several months ago and started using it immediately. I had always intended on painting it gold, but had to wait months for a weekend that was both rain- and visitor-free. I finally had the time to get it done last Friday.
The directions are pretty straightforward. Assemble the metal frame of the bar cart without the shelves.
Then prime the body, paint it gold, let it dry and assemble it with the shelves.
If you have any questions about that part, Ashley's post is your best reference.
I used a Rustoleum primer, and this version of Rustoleum gold spray paint.
When you spray paint, try to pick a location that is sheltered and well-ventilated.
As an aside, spray painting in Chicago is a total bitch. Hey, Windy City. I see you. It's remarkable how quickly I went from a mindset of multiple light even coats for a lovely finish – to – OK THE BREEZE STOPPED FOR HALF A SECOND DRENCH THIS THING IN GOLD LET'S GO.
As a result, it's far from perfect, but most of the imperfections can't be seen unless you're very close to the cart.
So, basically from any vantage point in my apartment since I live in a big city shoebox.
Once the painting was done and the cart was assembled in my apartment, I added a few small touches of my own. I used Gorilla Glue to mount a small wire IKEA wine glass rack (similar) to the bottom of the second shelf. The glue gets super messy, but you won't be able to see it anyway, so it isn't a problem. It's very, very sturdy.
I also found this steel wine rack from Target (bonus: it's stackable!), and found that it fits perfectly in the cart. It got a coat of primer and gold spray paint as well.
Once everything is primed, painted and dry, follow the IKEA assembly directions (good luck) and that's it!
I love how it turned out.
I topped my bar cart with the same gold tray from West Elm as Ashley, and used it to corral my liquors together. I added a clear acrylic tray from Target (similar) on the middle shelf to hold mixers/ chasers and glassware, and then created a fun chalkboard sign (Target Dollar Spot) and popped some cute gold straws (also from the Target Dollar Spot) into a glass on top of the cart as an added touch. A bowl of lemons and limes is both decorative and functional, and an old Target cocktail shaker (similar) was not optional. I also love my cute Star Wars shot glass, which matches perfectly!
The cart itself is obviously stocked with a blend of my favorite wines and champagnes (Pinot Grigio, riesling, rosé and Leelanau Cellars fruit blends), favorite liquors (gin, RumChata, Jose and vodka) and my favorite mixers and chasers (Limonata, Red Bull and Coca Cola.)
I couldn't be happier with how it turned out! This little cart fits perfectly along the counter edge in the kitchen/ dining area of my main room.
I styled it a bit by mounting a wine cork-filled shadow box, as well as my press for champagne DIY project on the cabinet above it.
I know I keep saying it, but I really do love how this project turned out! I have overnight guests quite often since I live in a major tourist city, and even though I love, love, love it when my guests bring a bottle or wine or liquor as a symbol of appreciation for my hospitality (not-so-subtle hint), it's totally unrealistic to fully expect them to bring their own booze along for the weekend.
I try to keep my cart stocked with not only my favorites, but general staples that can be used to make a variety of cocktails. I keep additional mixers — like margarita mix, pineapple juice and V8 — in my refrigerator.
Do you have a bar cart? Do you want one? If you have/ want one, what do you/ would you stock it with? Let me know in the comments!
This post contains affiliate links. For more information, please read my disclosure policy.