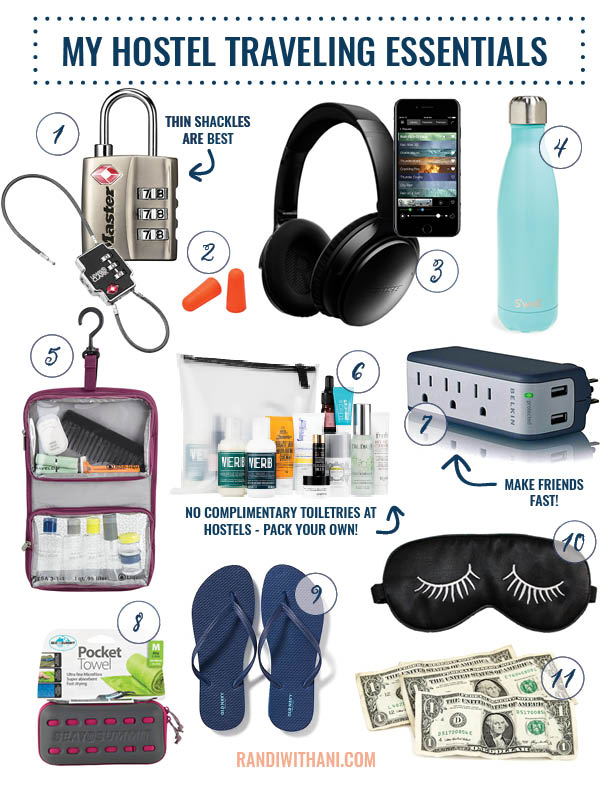 When I published my post earlier this week about my recent trip to Nashville, I ended up getting a lot of questions and comments about my decision to stay in a hostel for the first part of the trip.
(If you didn't know, I stayed in an all-female eight-bed hostel room for the first few nights of my trip. It was a blast!)
I was a little caught off-guard by the questions, actually. I know hostels aren't as prevalent in the U.S. as they are over in Europe, but I'm so accustomed to them that sometimes I forget they're not quite as common here in the States! When I travel alone, hostels are always my first choice of lodging because they're budget-friendly, and they're a great way to build friendships with other members of the travel community.
When I say budget friendly, I mean it. Hostels can actually be dirt cheap. I've booked beds in the U.S. for as low as $20 a night… which means more money to spend on drinks, dining and souvenirs! And the building friendships part is no joke. Every time I've stayed in a hostel — both here in the U.S. and over in Europe — I've always met so many people from so many countries!
Because so many hostel-dwellers are traveling alone, everyone kind of ends up hanging out together. It's great. Not only do you learn about different cultures, but you also end up having friends to spend your trip with, so you don't end up playing tourist all by your lonesome. Plus, if you keep those connections via Facebook (I always do!), you have couches to crash on in the future if you ever need them.
But, hostels can sometimes be a little scary if you're not totally prepared. If you're a first-time hostel stayer, I'd definitely suggest booking a smaller one-gender room, like a four-bed female room. My first ever hostel stay was a mixed-gender 12-bed room in Washington D.C., and I was kind of terrified! I shared a room with two of my friends and nine incredibly drunk German men, and got about two hours of sleep. It makes a great story now, sure, but at the time, I definitely was not prepared for the experience.
But, after staying in a slew of hostels across two continents, I think I've become a bit better at knowing what to expect, how to prepare and what to pack.
(Heads up! Some affiliate links below.)
∙ ∙ ∙
1. Locks. Your hostel mates might seem super cool, but unfortunately, all it takes is one sketchy bunkmate to fall victim to theft. I've had things stolen from my luggage at hostels before, so now I always make sure to lock my shit up! Most hostels have lockers, which are great. You can just toss your suitcase — or the most valuable things you brought — into the locker and put a combination lock on it.
If you don't have a locker available in your hostel, these cable locks are great — just lock up your luggage and use a cable lock to secure it to something immobile, like your bed. I absolutely love my Away suitcase because it has a built-in lock, but if your luggage doesn't have a similar feature, use these thin-shackle locks to secure your zippers before fastening your luggage with the cable lock.
Some tips for picking out locks:
Use locks that rely on combinations, not keys. It's way too easy to lose small things while traveling.
Pack a combination lock with a thinner shackle: Many foreign lockers have smaller openings that won't fit those gym locker-style combination locks we use here in the U.S.
If you're planning on using your lock on your luggage while checking it, make sure it's TSA-approved.
Keep in mind, these locks are really only a slight deterrence. If someone really wants to raid your belongings, they will. So take caution when traveling with expensive things. Use common sense. Try to keep a low profile: Don't flash designer logos around, and try not to use expensive gadgets in full sight of your hostel roomies. Try to make your luggage look like it doesn't contain anything valuable. Travel insurance is also never a bad idea!
2. Earplugs. With close to a dozen people in one room coming and going as they please, it can be a little difficult to sleep. Earplugs help! Bonus: Pick up a pair with either a case or a string so you don't lose them.
3. Headphones + a white noise app.  I personally can't sleep with foam jammed into my ears, so I have a pair of Bose noise-cancelling headphones that I couple with the Rain Rain app ("city rain" and "Mississippi at night" are my favorites!) and they both help me to get a little bit more sleep than I'd otherwise have.
4. A water bottle. There are no ice buckets or crystal glasses in hostels, so you'll be refilling your own water bottle from the drinking fountain or communal kitchen. I have a knock-off S'well bottle that accompanies me on all my travels.
5. A hanging toiletry kit. Remember how you had to take a shower caddy down to the floor bathrooms every morning when you were in college? Hostels are kind of the same, except it's a lot harder to pack a shower caddy. I love this Travelon kit, which is even TSA approved to serve as your quart-sized bag of liquids! And, on that note…
6. Toiletries. I'm really picky, so I tend to bring my own soaps and lotions everywhere I go regardless. But, if you're used to staying in a Marriott, it can be hard to remember that most hostels don't even offer hand soap! Some hostels I've stayed at offer bins full of products left behind by other hostel-goers, but it's best to just pack travel-sized containers of everything you'll need — shampoo, conditioner, soap, lotion, etc. Some stores sell ready-to-go kits like this one from Sephora, but I'm pretty brand loyal, so I like to make my own.
7. A power strip. When there are 12 beds in a room and four outlets, you do NOT want to be that asshole using half of them to charge your phone, iPad and computer all at once. Bring a small power strip instead. I have this one that I got for about $10 on Amazon. You can charge five devices at once — three via three-prong plugs and two via USB — and it's also a lifesaver at the airport. Plus — don't forget the outlet converters if you're traveling abroad!
8. A small towel. Most hostels do offer towels, but on the off-chance you get stuck at one that doesn't, a small hand towel is always good to have on hand. If you travel a lot, it might be worth it to invest in an actual packable travel towel, which are efficiently designed to use as little space as possible.
9. Flip-flops. Communal showers, enough said!
10. A sleep mask. You can't control the communal curtains (if you have them) in your hostel room the same way you can in a hotel room with friends, or at home. So, bring a sleep mask to help you get the best rest you can. This is also a great airplane packing item, too.
11. Cash, including single dollar bills. A lot of hostels will charge a dollar or two here and there — $2 for key card rental, $1 for towel rental, $1 for computer access to print your flight's boarding pass, $4 non-refundable hair dryer fee, etc. Keep a few singles in your wallet just in case. There's nothing worse than desperately wanting a shower at the end of a long day, but not having cash or an ATM available to pay for that towel rental.
∙ ∙ ∙
So, that's what's in my suitcase when I pack it up for a hostel stay! I always overpack a ton of convenience items when I travel — cozy cardigans and wraps, snacks, leggings, etc. — so this is just a quick round-up of my favorite items that make hostel stays a little better.
What about you? What can you absolutely not forget when you've booked a stay in a hostel? Let me know in the comments!
This post contains affiliate links. For more information, please read my disclosure policy.