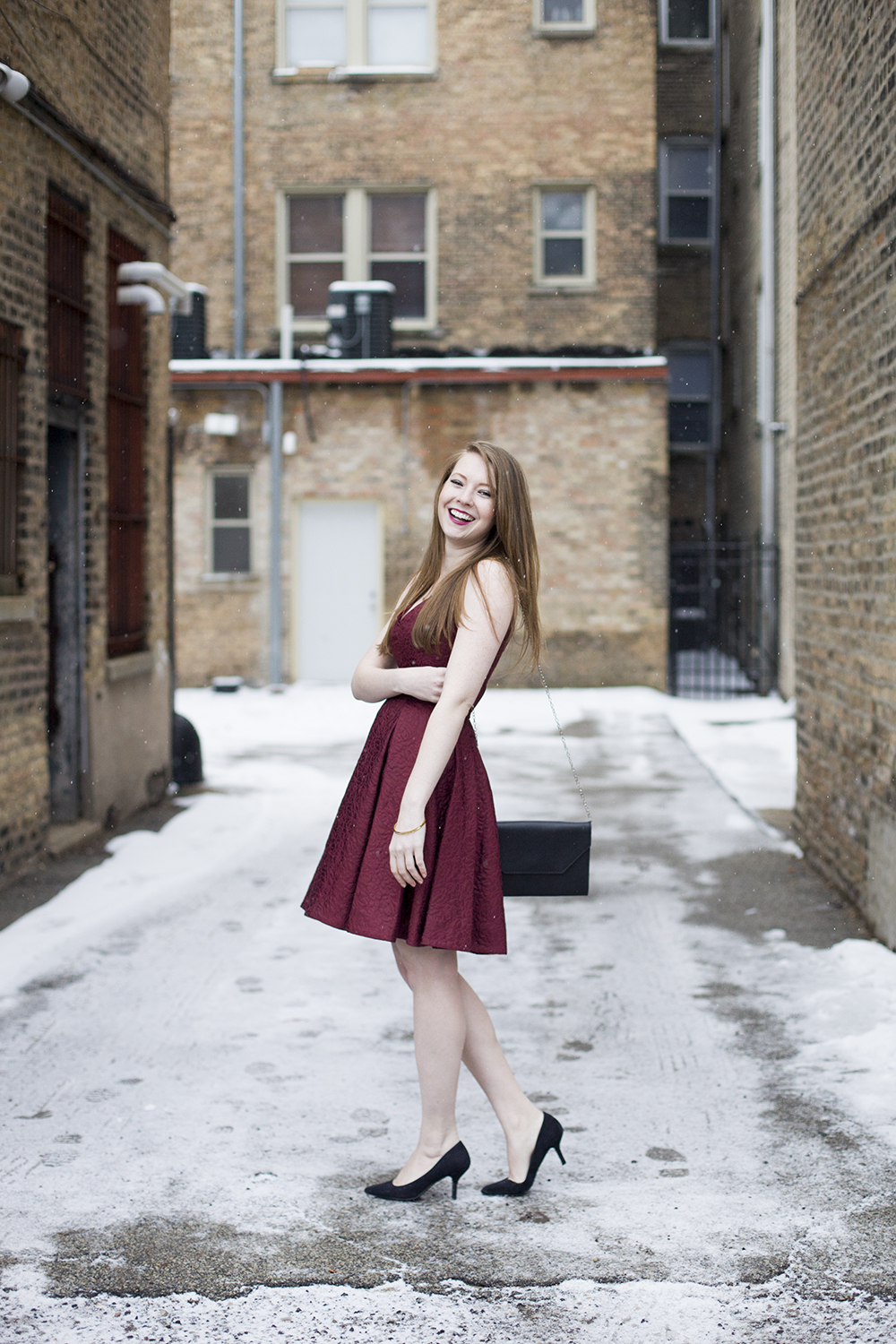 It pays to shop around.
OK, so it doesn't literally pay, but you can save so much money it's basically almost the same thing.
A few weeks ago, my company (the Chicago Tribune) had its annual awards ceremony (the Jones-Beck Awards, or just "the Becks" for short).
As strange as it is, I hadn't ever been to a real work banquet/ company awards ceremony before — college doesn't count. My last company was super small and only really gathered us together to tell us to work harder; not to celebrate our accomplishments.
So, I really had no clue what to wear.
And I also had an excuse for a shopping trip.
dress | shoes | clutch | lipstick in "Rebel" | bracelet
I ended up getting this gorgeous crimson dress after a trip to Rent the Runway, but kind of in a round-about way.
I first accompanied my work bestie on a walk-in appointment to RTR a few months ago when she needed a dress for a cocktail event, so I pitched the idea to some of my other Becks-attending coworkers.
My coworker Haley (and my fashionable friend Denise, for good measure) and I booked off a Friday afternoon to go. We went to Nordstrom Rack, Nieman Marcus Last Call and TJ Maxx along the Mag Mile first (just in case!) before heading to RTR.
I did a walk-in appointment, so nobody assisted me and I was left to browse the shop on my own. I found four dresses that looked promising on the hangers. I ended up trying on this silver sequined Milly sheath, this metallic Yoana Baraschi dress, this burgundy sequined Slate & Willow number (totally not appropriate, whoops), and the ERIN Erin Fetherston dress I ended up getting.
I absolutely loved the ERIN dress, which was a $70 rental.
But, after reading this piece a few weeks back about Rent the Runway's pricing discrepancy, I figured I might as well do a quick Internet search to see whether the dress was available elsewhere.
And… lucky me! I found it at Nordstrom Rack for $99! The only size left at the time was my size. I bought it and had it shipped to my apartment, and luckily, it arrived five hours before the awards ceremony and fit perfectly.

I'm really excited. For an extra $30, I get to keep the dress forever, and I'm already planning on re-wearing it to a wedding I'm going to this October.
I kept it very simple — with black heels, a black clutch, berry lipstick, pearl studs and a vintage gold locket — because the dress speaks for itself (the texture!) and it was a work event. I absolutely love the Halogen clutch I used, because it goes with everything, holds a fair amount and has a dainty silver chain you can pull out when you become too drunk tired to carry it around anymore.
I ditched my usual parka because the ceremony was at a hotel, and since we had booked a room upstairs, there was absolutely no need for a coat.
Haley ended up renting a gorgeous Nha Khanh dress that fit her style perfectly.

…And of course, I'd be remiss to not show you more (horrible quality iPhone) photos from the evening.

…and…
a huge congrats to my astoundingly talented boyfriend Armando for winning an award for his photography!
Shop the post:
This post contains affiliate links. For more information, please read my disclosure policy.