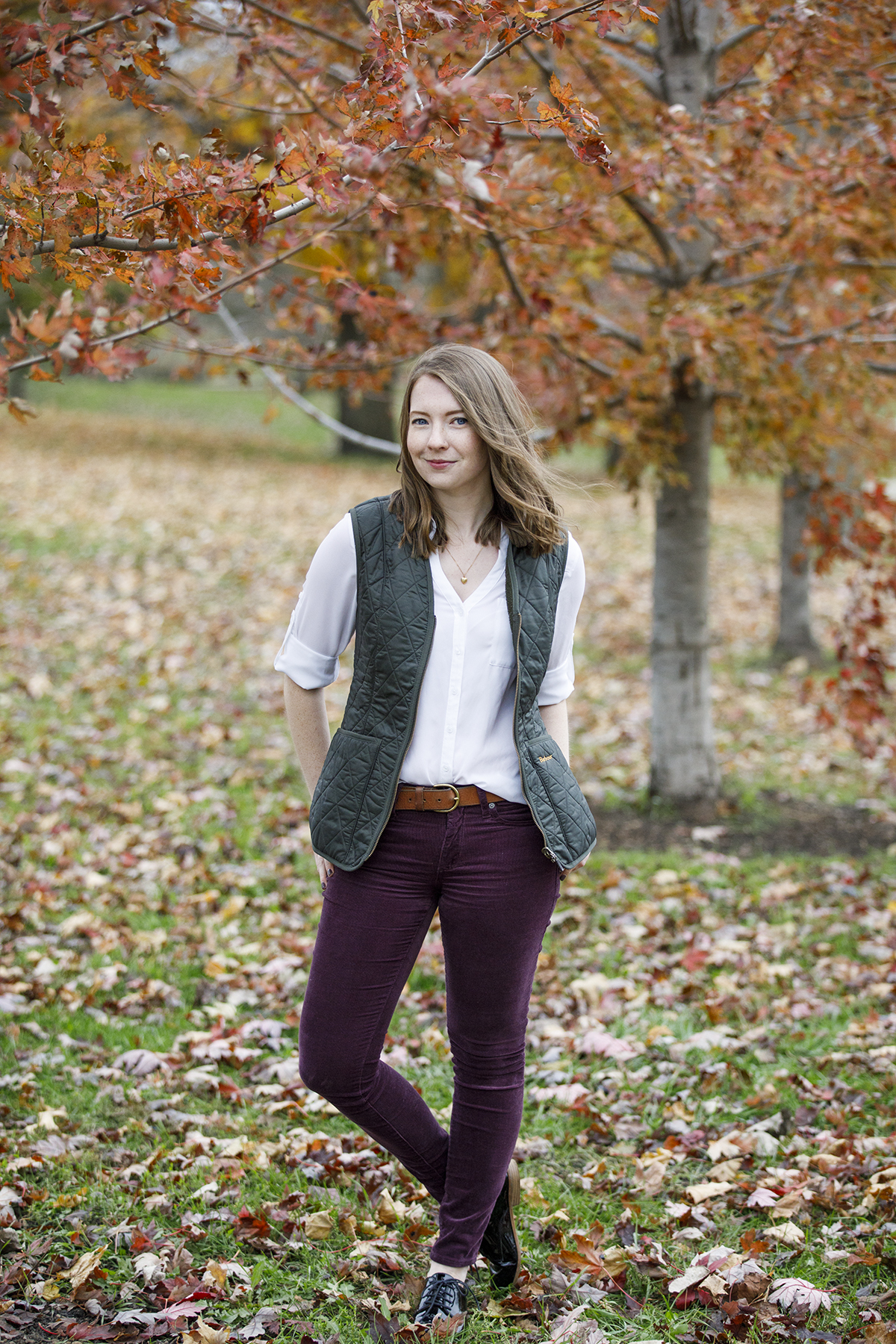 Happy early Thanksgiving ya turkeys.
I'm so excited for this year's holiday. I briefly mentioned it in my last DIY post, but after Thursday dinner with my immediate family, I'm heading to Montreal for a weekend trip with some of my best friends from high school.
Montreal is about a nine-hour drive from my hometown, so it'll either be a really fun road trip… or one of us will end up dead at the hands of the rest.
My bet's on my friend Joel. Kidding… kind of.
Either way, there's gonna be a whoooole lot of time to play Taylor Swift's "Reputation" on the drive. I cannot stop listening, anyone else?
(Pssst, affiliate links below.)
locket (old, similar) ∙ blouse ∙ vest ∙ belt ∙ corduroy pants ∙ shoes
The aforementioned friend Joel — yunno, the one I'm gonna push out of the car somewhere in Canada — always jokes about how fall is Han Solo season.
You know what? Star Wars is awesome. I'm not even going to protest.
Anyone have tickets to see "The Last Jedi" next month?
Anyway. A few days ago I wrote a post about the 12 items in my fall wardrobe that I've worn the most this season. This photo probably could have worked for that post as well, because everything I'm wearing here is on that list.
This vest was a birthday gift from Mando, who knows how much I love Barbour. This gilet is perfect because it can be worn on its own, or zipped and snapped into my Beadnell for additional warmth. I've been wearing it both ways since I got it, and it's quickly become one of my favorites.
I've also been looking for a modern-cut pair of cords for ages, so I was stoked when I found these at Gap! Just a heads up if you order — they run very, very small. Size up one if not two sizes! I'm wearing my actual size in these photos, and you can probably tell they're pretty tight. I was going to exchange them for a size up, but I've been dropping weight like crazy thanks to my Invisalign (more on that later), so I decided to hold on to them for now.
Anyway, back to the cords. I picked up a pair in "cool lake blue" and "rich wine." I'm wearing the "rich wine" pair in these photos, and they look waaayyy more purple than oxblood IRL. The lake blue also look a lot darker than the photos online suggest, but I still really like both pairs and am planning on holding onto them.
I'm hoping Gap introduces some new colors in the future, though, like a true oxblood? Fingers crossed!
Hope you all have an amazing Thanksgiving!
Shop the post:
This post contains affiliate links. For more information, please read my disclosure policy.