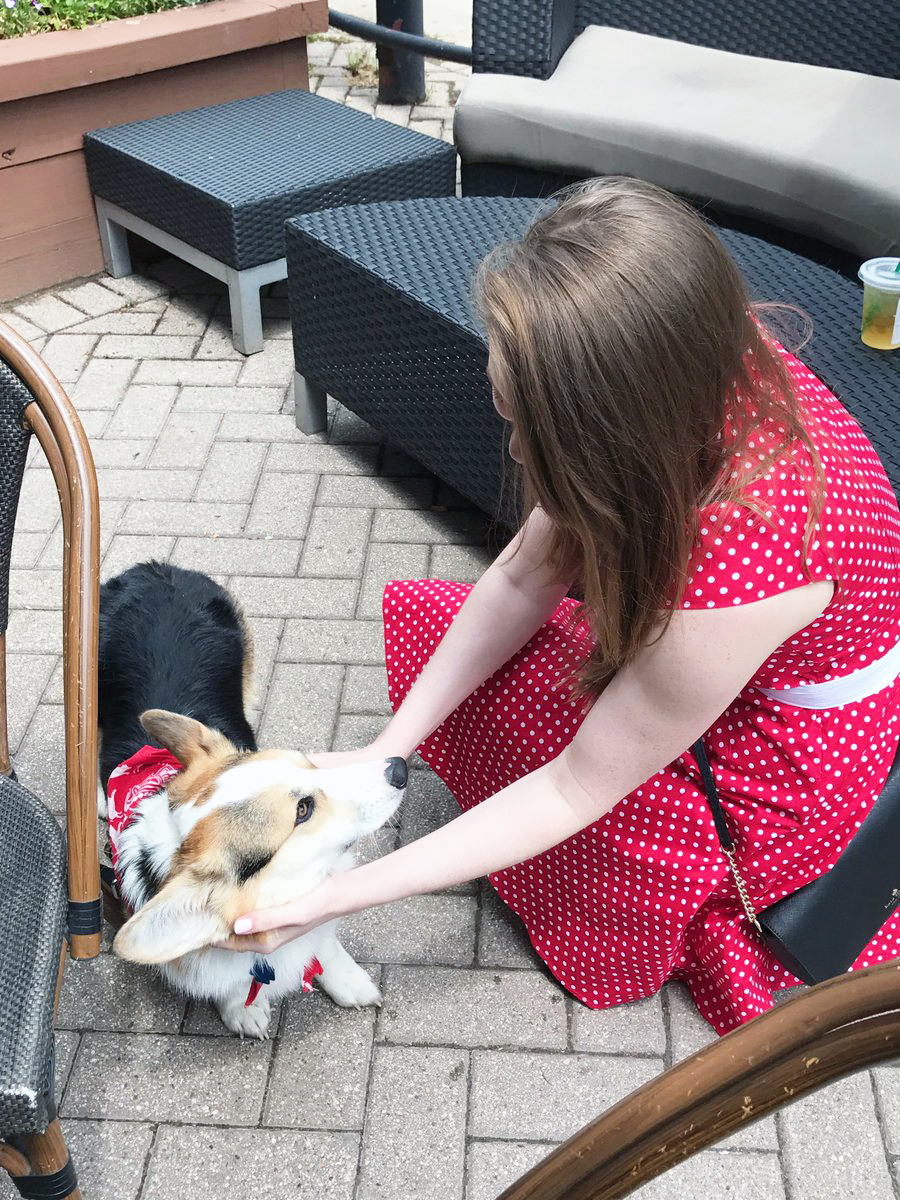 So, I almost made it to the end of June without a single hint of a sunburn… but some scarcely-applied sunblock and a strangely-positioned chair on the Big Star patio left me with just one half of one bright red shoulder last week. Sigh. I was so close, too!
Anyway, aside from trying to avoid the sun (#redheadprobs), here's what's been going on in my life lately.
・・・friends + family ・・・
So, my baby sister graduated from college! More on that here. She's still figuring out what she wants to do post-grad (cough move to Chicago cough) but she's had plenty of time to visit lately, which has been pretty cool!
・・・dining ・・・
A few new-to-me brunches to report on. I finally braved the line at Batter & Berries to get my hands on that notorious french toast flight, and it did not disappoint. I also recently tried Dove's Luncheonette, grabbed brunch at Simone's during the Renegade pop-up and ventured down to Bronzeville to try Chicago's Home of Chicken and Waffles. Thumbs up to all.
I've also been seriously taking advantage of the gorgeous weather. I spent a clear evening eating lobster rolls lakeside at the Waterfront Cafe and sipped on rosé during a sunny afternoon at Andersonville's Bar Pastoral Appellation. I also tried something completely new: I ditched silverware and had Ethiopian food for the first time ever while on a double date at Demera with my college friend Emily, her boyfriend Will, and Mando!
And… drinks! Happy Hour was legalized about two years ago in Illinois, so it's still relatively new, but I will always take advantage of the specials. In the past few weeks, I've indulged in half-priced wine at Rogers Park Social, tried the newly-opened Empirical Brewery up in Rogers Park and ventured over to The Call for my grad school friend Robbie's birthday: It was Britney night! I am of the completely correct and inarguable opinion that more bars need Britney nights.
And, of course, no Chicago summer is complete without frequent trips to Jeni's and Lickity Split.
Top row, left-to-right: Dove's Luncheonette, Waterfront Cafe and Jeni's
Bottom row, left-to-right: Demera, Rogers Park Social and Batter & Berries
・・・shopping (affiliate link alert!)・・・
The sweaters have finally been retired for the season! If I get a bit chilly, I throw on my favorite (and cheap!) denim jacket, but for the most part, I'm living in dresses and skirts this season. This Modcloth dress has been on repeat lately, as have my favorite J. Crew chino shorts, my trusted Express portofino shirts and my favorite cotton t-shirts.
While I was confined to wearing a single flat shoe on my left foot only for six weeks due to that pesky broken foot, I've finally gotten the go-ahead to ditch the foam shoe! During my injury, I'd been relying mostly on Keds and Jack Rogers, but I've been wearing these adorable espadrille wedges on repeat now that I'm able.
I also broke down and bought a new swimsuit, sunhat and have been eyeing these sandals… all perfect for upcoming beach days!
A few other things on my wish list: These fun bright blue heeled sandals, this amazing wrap dress from Topshop, this hybrid wicker basket/ backpack (perfect for picnics!) and this really fun skirt. I'm also amping up for some shopping prior to my Nashville trip (cowgirl boots anyone?) as soon as I figure out what to wear for this bachelorette party.
Shop:

・・・my kitchen ・・・
Thanks to the insanely early shift, I've been focusing more on making grab-and-go food to keep in my freezer for work meals. These Roundy's-brand vegetable-and-grain freezer mixes are a lifesaver when I oversleep, and these freezer-friendly baked oatmeal cups make a fantastic office-ready breakfast.
I've also been eating grain bowls nonstop for weeknight dinners because they're so easy. I make everything in advance on the weekends, and then throw together a protein (my favorites are salmon or tofu) with a grain (usually quinoa, brown rice or farro) and then top with some veggies (sautéed greens, avocado, Brussels sprouts, asparagus, broccoli… literally, anything green!) and douse in sesame seeds and dressing (balsamic, green goddess, tahini… even just lemon juice and olive oil!) for an easy and healthy meal.
・・・traveling ・・・
I haven't stepped foot on a plane since I returned from London and Paris last fall, since I've been busy taking on a new role at work and, frankly, trying to save money. However, I've made arrangements for two different bachelorette party trips this summer: One in Cincinnati, and another in Nashville! Thanks to my work schedule, I always have Thursdays and Fridays off, so I'll be heading to both destinations a few days early so I have time to explore on my own. I'm really excited!
・・・reading, watching, listening ・・・
Can we use this space to talk about — seriously — how freaking good Wonder Woman was?! Gal Gadot is a total badass babe, and I really wish I could have had such a great movie with a strong message of female empowerment when I was growing up!
And, speaking of awesome things I've viewed — how painfully relatable was the new season of Master of None? I think I felt every emotion possible over the course of those 10 episodes, and I really hope Aziz comes back with a third season. It's such a good show.
Anyway, back to female empowerment. I've been pretty into reading books by, for and about journalists lately, especially women journos. I finished Megyn Kelly's Settle for More a few weeks ago, and finished up The Taliban Shuffle by Kim Barker earlier this week. And, it's not journalist-related, but I blew through Crazy Rich Asians in less than 24 hours. I stayed up waaayy past my bedtime because I could. not. put. it. down.
I've got the remaining two books in the Crazy Rich Asians trilogy on hold at the library, and I just started the Handmaid's Tale… which — I'm sure — will lead to an insane Netflix binge. As usual, if you have suggestions for reads, gimme!
・・・etc. ・・・
I finally took both the splint and the cast off my foot! Now all I want to do is buy shoes and do yoga, and while I've done the first part (whoops!) I'm still giving it a week or two before I hop back on to my mat at Chi-Town Shakti, just to be cautious.
Also, the Chicago Public Schools calendar year is over, which means I successfully wrapped up my first year of after school tutoring with 826CHI! Yay! All of us staffers, tutors and volunteers celebrated with pizza and beer at The Stop Along. (It's not mentioned above, but I definitely recommend it.)
I also marked two full years in Chicago, and celebrated by updating my Chicago page. If you haven't checked it out, you should do so!
I think that's about it. Cheers to another wonderful summer, you guys!