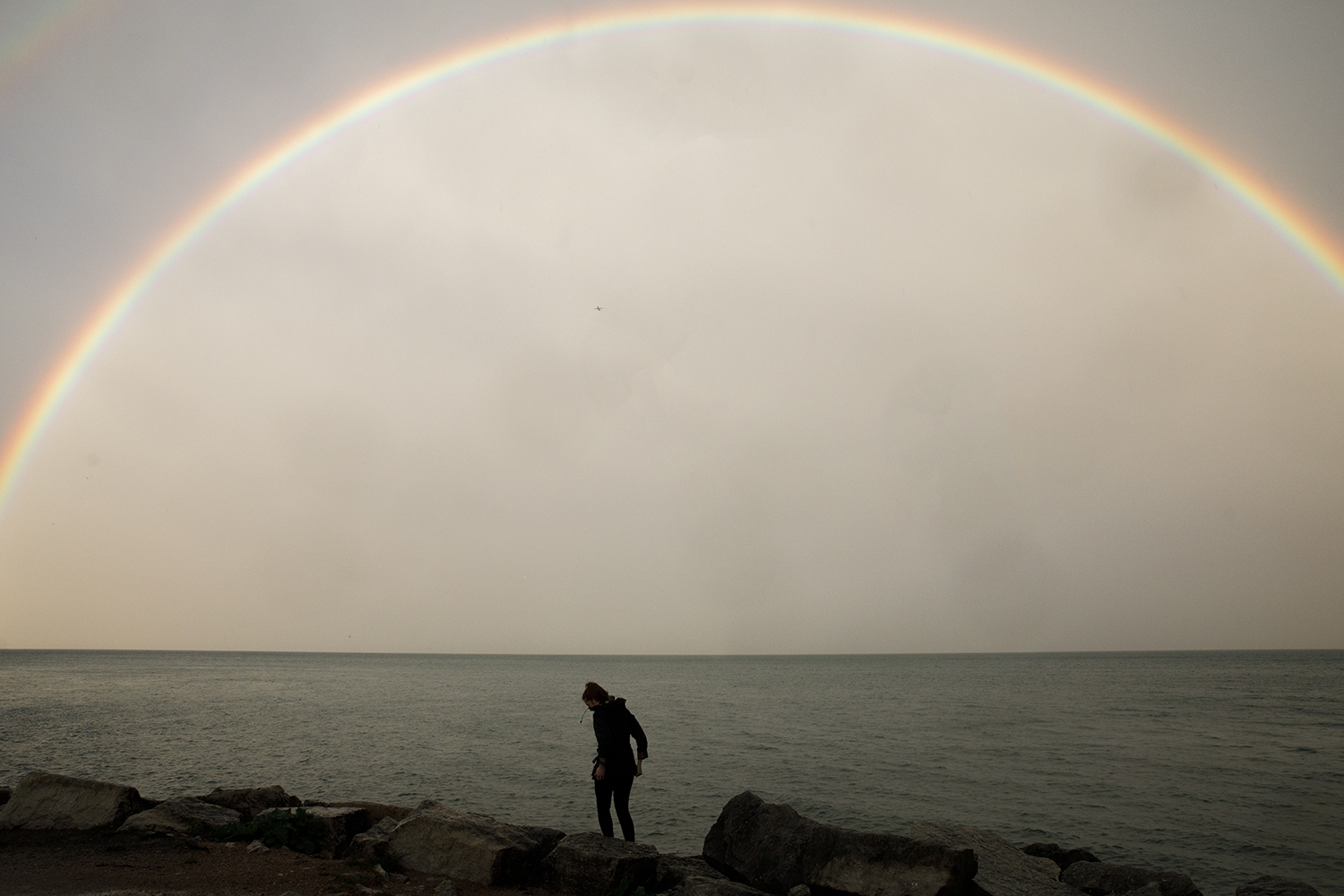 Heya! I feel like the last two months have been busier than usual, but I sat down last night to write this blog post and then suddenly my mind was completely blank.
Does that ever happen? You feel like you've just been so busy, but you can't figure out what's actually been keeping you busy. I feel like it's a lesson in prioritization.
Anyway! I wanted to take a second to share a few highlights of the last couple of months with you. After I took a second to unfreeze my brain and scroll through all my social media feeds and remember what I actually did do during September and October, I realized that — even though a lot of my plans got rearranged or canceled due to the NLDS/NLCS and work — I had a ton of fun.
・・・ friends + family ・・・
So many weddings the last few weeks! First, my college friend/ roommate/ fellow Invisible Children @ CMU board member Caitlin got married! ICYMI, I shared a few photos and wrote about the weekend I spent in Michigan for her wedding here.
And secondly, my step-cousin Ben got married to his stunning bride, Jess!
Like, I'm not even going to pull that why-are-you-all-getting-engaged-and-or-married card because I'm just so dang happy for both of these couples.
AND, I also spent an amazing birthday weekend back in my college town, celebrating homecoming with fellow alumni of my student newspaper.
This place. These people. ❤️ pic.twitter.com/sJsRSymon2

— Randi Shaffer (@RandiMShaffer) October 15, 2017
・・・ dining ・・・
While most of my eating over the past two months has been done while traveling, I have tried a few new restaurants here in Chicago. I have a British breakfast at the Peckish Pig in Evanston, some avocado toast at TrueNorth in Andersonville and some amazing french toast at Pannenkoeken Cafe in Lincoln Square.
I also tried the vegan Impossible Burger at Umami Burger (so good!), Ravenswood's Bienmesabe (the cachapa and the tequenos were both amazing!), table side guac and margs at El Mariachi and a coma-inducing meal at Logan Square's Giant — I think my friend Chelsie and I tried half the menu, seriously. I have also been SHAMELESSLY ordering Jet's Pizza almost weekly ever since it opened up within delivery distance of my apartment. (Detroit-style pizza is my favorite.)
Also: Drinks! I really haven't gotten out much lately, but I did stay up past 9 p.m. to head to a friend's birthday at Tapster, Wicker Park's new self-serve beer bar. I also recently ventured over to Honey's in West Loop for happy hour cocktails and oysters. I also finally got around to trying wine flights at Eno, which is almost a little embarrassing because it's right next to the newsroom.
Happy hour is more my thing. I'm old. I haven't been able to close down a bar in years.
Top row, left-to-right: Umami Burger, Bienmesabe and TrueNorth
Bottom row, left-to-right: Peckish Pig, Rayback Collective (from my Boulder trip) and Honey's
・・・ shopping ・・・(affiliate link alert!)
I've got a post coming pretty soon recapping the things I've worn most this fall, so I'll keep this short and just share a few items on my wishlist.
I've got a Ralph Lauren gift card to spend, and I have a feeling it's going to go toward this sweater. I know flats are not the most practical choice for footwear this time of year, but I can't get enough of the cute holiday designs, like this pair, this pair, this pair and this pair. I've been meaning to pick up a pair of shearling-lined slippers since it's starting to get pretty dang chilly outside!
A few other cozy staples I've been wanting: This alpaca cape, this cute beanie, this adorable pajama set and this fair isle sweater. Also, is there such a thing as too many pullovers and scarves? Because I want them all.
・・・travel ・・・
ICYMI, I just got back from an extended weekend in Boulder, Colorado, which was mostly spent drinking beer and eating and then regretting everything.
I have several trips back to Michigan planned for the holidays, but sadly no other fun trips coming up, which is kind of a bummer.
・・・etc. ・・・
Let's see… what else? My book club is still going strong! We're actually meeting tonight to talk about this month's pick: Mary Kubica's The Good Girl, which I really enjoyed.
I also recently attended the 826CHI Eat Your Words gala, which was really fun! I didn't think to take a single picture other than a hasty Instagram, and I dipped out early because of a 6 a.m. shift the next day, but it was really cool to see so many people all dressed up and supporting a cause I'm really passionate about!
I've also signed up to take intermediate Spanish classes, which is something I've wanted to do for quite some time now! The classes were originally supposed to start earlier this week, but ended up getting pushed back until early 2018, so I guess I have a little more time to brush up on my preterite vs. imperfect before I embarrass myself in front of everyone.
And, I finally got around to making an actual real-to-god portfolio website for my work! It's still under construction, but it's nice to have an actual dedicated space on the internet for all my journalism-related content to live.
Anyway, I think that's about it! I'll check back in after the holidays… yunno, assuming I make it through them.
Also, holidays? Seriously… where did 2017 go?!
Until next time!
This post contains affiliate links. For more information, please read my disclosure policy.