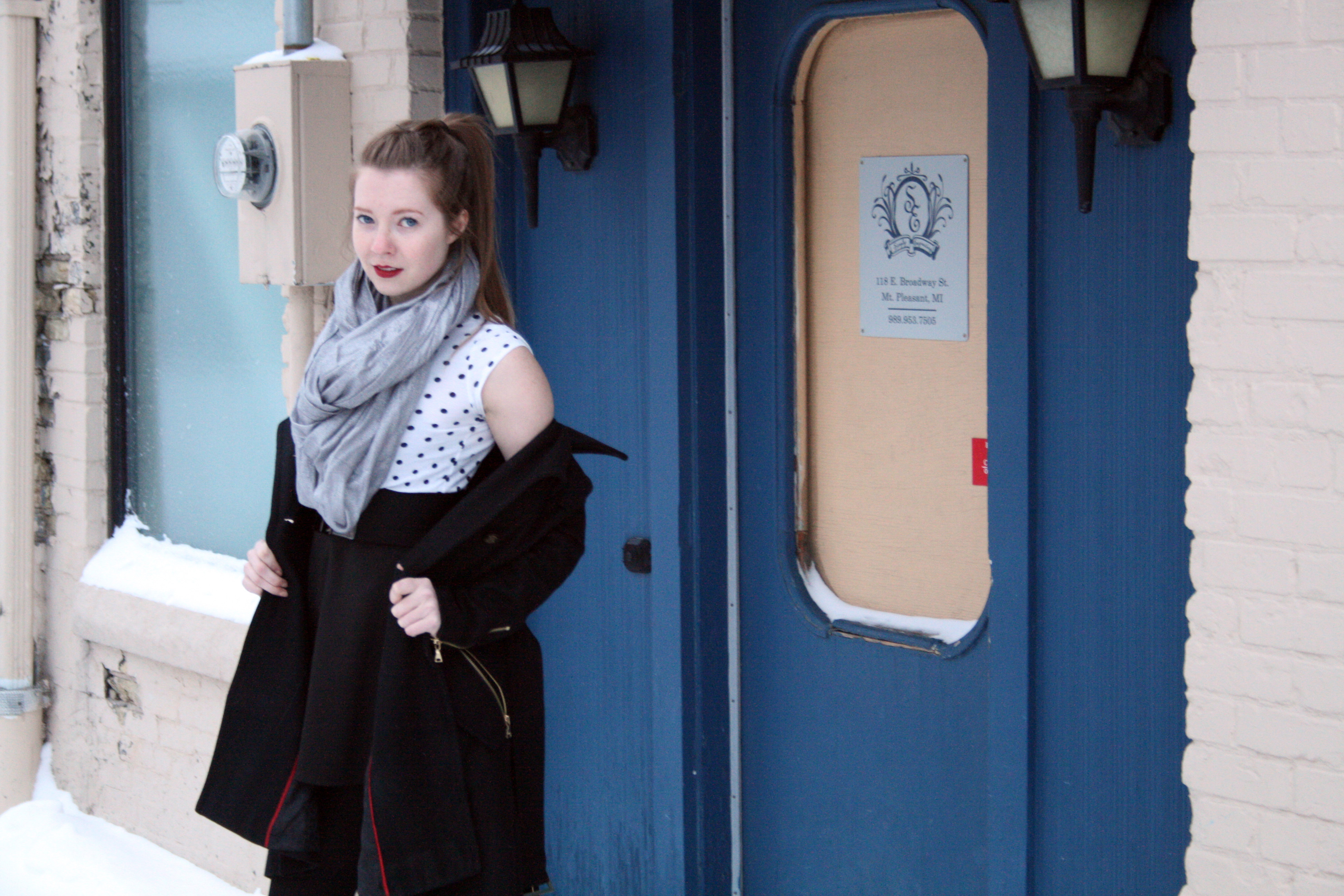 If you live in the mitten state, or have ever even visited anytime between December and March, you know that Mom Nature is always a little moody. This winter, we were blessed with not one, but two polar vortexes. For those of you unfamiliar with the term (ahem west coast friends), it means temperatures dropped below zero, with windchill down to NEGATIVE THIRTY, for a few days at a time. Brrr. Sometimes it's impossible to be warm AND stylish, but I've grit my teeth and dealt.
BUT! The crazy arctic vortex polar circle of hell has prompted a late-January post of my most-worn and/ or favorite pieces this winter season.
1. Black boots // La Canadienne
2. Black tights // H&M
3. Metallic scarf // Express
4. Cuff-detalied gloves // Merona by Target (similar)
5. Black skater skirt // Charlotte Russe (similar)
6. Black pea coat // Express
7. Embellished sweater // Charlotte Russe (similar)
8. Thick gray cardigan // Forever 21
9. Leopard portofino // Express
10. Black suede booties // Pink and Pepper
11. (Minus the) Leather jacket // Express (similar)
12. Viva Glam II // MAC
A lot of Express on that list, huh. I managed to snag quite a few awesome deals during the holiday season. I caught the entire store half-off multiple times, which resulted in the scarf, pea coat and leather jacket, as well as several portofino shirts and a new a-line skirt. The La Canadienne boots were new as well. I'd been vying for them after a very lengthy search for the perfect dressy winter boots, and after returning two pairs of cheaper boots, I caved and bought the boots with some Christmas money. So entirely worth it, if anyone was on the line about purchasing a pair.
The outfit above combined with that list I just gave you makes it look a little bit like I've been wearing the same outfit all season, but I promise you I haven't. You'd be surprised how well I've been able to mix- and- match some of those pieces! It's all about buying a lot of neutrals and knowing how to layer. I've worn my embellished sweater casually with leggings, with skinny jeans to family holidays and tucked into a pencil skirt for work. Though I think I have worn those boots every day.
And above? The boots, tights, metallic scarf, skater skirt, lipstick and coat mentioned, with the addition of a Zara top (old, similar) and an Express belt (old, similar).
So, what have you been wearing to keep warm this seemingly extra-frigid winter?